Last updated on November 19, 2021
What home game room would be complete without a bar dart board cabinet? Sure, you could go the piecemeal route, purchasing the best darts, best dartboard and best dartboard wall protector you can find. But, your setup will still need a way to keep things contained. That's where the dartboard cabinet comes in to play.
The cool thing about dartboard cabinets is that they often come as sets, comprising everything you need to start playing right away. Of course, all things are not always equal, and some sets will naturally be higher quality than others. Not to worry, though, because we're going to sort everything out and find the best dartboard cabinets available.
Best Dartboard Cabinet Overview
| Image | Name | Included | Finish | Price | Satisfaction |
| --- | --- | --- | --- | --- | --- |
| | Barrington Webster – Dartboard Cabinet Set | Cabinet, Dartboard, Darts | Dark wood | | |
| | American Heritage Billiards – Cavalier | Cabinet, Dartboard, Darts | Mocha | | |
| | Hathaway Centerpoint – Dartboard Cabinet Set | Cabinet, Dartboard, Darts | Dark Cherry | | |
| | Viper Hudson –Dartboard Cabinet Set | Cabinet, Dartboard, Darts | Mahogany | | |
| | Viper Neptune – Electronic Dartboard Cabinet | Cabinet, Dartboard, Darts | Veneer | | |
Best Dartboard Cabinets
Viper Hudson –Dartboard Cabinet Set
Viper is one of the top names in darts. It is known for producing affordable dartboards and darts for enthusiasts of every level. The
contains all the amenities you would expect in a cabinet set costing much more than the Hudson's entry-level prices. Here's a quick snapshot of what stands out.
Attractive solid pine cabinet with box-joint construction
Tightly wound, self-healing sisal board material
Out chart makes for quicker games
Quality starter darts
Antiqued bronze hinges
Advantages
The first thing that stands out about the Viper Hudson is the quality of the cabinet. It isn't flashy, but rather it is subdued and sleek. It is made from solid pine, but the mahogany stain makes it look like a much more exotic cabinet. The heavy bronze hinges hold the doors up solidly, and small stoppers ingeniously prevent the doors from slamming shut on exposed darts. There is also a dry-erase score board on one door and an out chart on the other.
There are several variations of the Viper Hudson bundle available. The main difference between them is the dartboard. The Elite and Premium options each have the Razorback dartboard, which is completely staple-free. The Standard set has the Shot King board, on which only the bullseye is free of staples.
Depending on the bundle, Viper includes a set of its Black Mariah darts with this bundle (two sets with the Standard bundle). These 22-gram, steel-tipped darts have brass barrels and aluminum shafts, which have locking holes to lend stability. The barrels are heavily knurled for a solid grip. Additionally, the Elite bundle comes with a laser throw-line marker.
Disadvantages
The starter darts are really only that. Black Mariahs are decent to begin your dart-throwing career, but you will soon want a higher quality implement. Also, the choice to include the laser throw-line marker only with the Elite set is curious, as customers who want the marker are forced to purchase a second set of darts. Lastly, the allotted scoring space is a little sparse, especially if 501 is your game.
Verdict
There really is not much to dislike about the Viper Hudson bundle. The minor detractors (darts, laser on only one set, etc.) are not enough to detract from the overall quality of any of these sets. The Elite bundle, with its staple-free dartboard and laser oche marker, stands out among its peers, but any of these sets will beautify your game room.
Hathaway Centerpoint – Dartboard Cabinet Set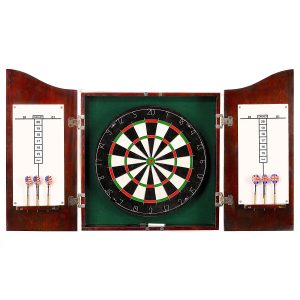 Hathaway enjoys a reputation for affordable quality, and its Centerpoint cabinet is a prime example. The
, gets you set up to play darts with one convenient purchase. Let's see what you get.
Solid poplar wood cabinet
Dark cherry finish blends in most rooms
Heavy-duty, stainless steel cabinet hinges
Dual dry-erase score boards
Advantages
The cabinet on the Centerpoint set is constructed with ½-inch-thick solid poplar, stained an attractive dark cherry color. The inside of the cabinet is lined with green felt. The cabinet itself is the main attraction of this set. The stainless-steel cabinet hinges are durable. They will not likely be an issue for the life of the cabinet.
The bristle dartboard is sisal fiber, and will likely last the life of the cabinet. The spider is made from round wire, and the outer ring is moveable to increase the useable life of the dartboard. The dual dry-erase scoreboards provide plenty of room for scorekeeping, and they are set up for cricket or 301/501 games.
Disadvantages
While the cabinet is a selling point, the style of the hinges leaves a large gap between the cabinet body and the open doors. It isn't an eyesore, but it is definitely large enough to allow errant shots to sneak through and impact the backing wall. Consider a backboard a necessary investment, especially for beginners.
Another issue with this Hathaway solid wood dartboard cabinet set is the lackluster starter darts. Their brass barrels are knurled for grip, but the plastic shafts are prone to loosening and bending. They will be fine for a beginner, but more experienced players will likely find them frustrating.
Finally, the storage solution for your darts seems to have been an afterthought on this set. The darts sit precariously in a thin block of wood, which is screwed to the inside of the doors. While this might suffice for the cheap starter darts included with the cabinet, it puts expensive players' darts at risk of falling to the floor.
Verdict
Beginning dart players who purchase this dartboard cabinet set are getting quite a bit of bang for their buck. The dartboard and cabinet alone are worth the cost of admission, as they will surely add a touch of class to any home game room. It is an open-ended purchase, though, as a backing and better darts are purchases that must soon follow on the heels of the initial investment.
Viper Neptune – Electronic Dartboard Cabinet
Electronic dartboards have improved over the years, as technology and manufacturing have developed. The
is an excellent example of how far the concept has come in recent years. Here are a few of its features.
It knows the rules, so you don't have to
External power supply so it won't eat batteries
Eliminates manual scorekeeping
Thin plastic spider prevents bounce outs
Hardwood cabinet with quality stain
Beveled segment holes lock soft-tip darts in place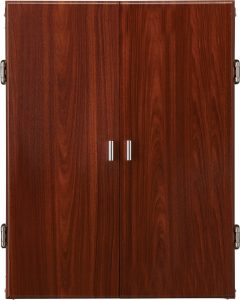 Advantages
The sheer number of variations on popular dart games that this electronic dartboard set enables practically guarantees a good time. From single in/single out or double in/double out options, to exclusive variations on American cricket, this set certainly keeps things interesting.
There are 49 game options, and the LED display can accommodate up to 16 players. Scoring is automatic, so miscalculated scores are a thing of the past. Toggling through the game options is simple, as there are only 11 buttons to learn.
The regulation dartboard is made from high-quality nylon, and the segment holes are beveled. With quality soft-tip darts, bounce outs are nearly impossible. The holes in the area around the target have larger holes to contain missed shots. The cabinet keeps everything contained in an attractive package when the modern-styled doors are shut.
Disadvantages
Though the included extra soft tips are a nice touch, the starter darts that come with this electronic dart cabinet are nothing to write home about. They are far too light to make effective use of the well-made segment holes, and bounce outs are inevitable. Being an electronic dart board, these misses are often scored, but the dart still crashes to the ground. The plastic shafts and tips can ill afford those repeated impacts.
The cabinet materials are not solid wood, but rather are some type of particle board. The veneer that Viper applies looks nice in most areas, but no one will confuse it for a stained, solid-wood cabinet. Lastly, the cabinet doors are sometimes not affixed square and true, leaving some customers to make adjustments with their own tools. This should be no issue for anyone who is handy with tools.
Verdict
Anyone interested in acquiring an electronic dartboard with a wood cabinet could do a lot worse than Viper's Neptune set. It's a great option for beginners or kids, who usually struggle keeping game rules and scoring straight. Reports of electronic failures are few and far between, though they are not unheard of. The manufacturer backs its product, though, and buyers can expect years of useable life from these electronic dartboards.
Barrington Webster – Dartboard Cabinet Set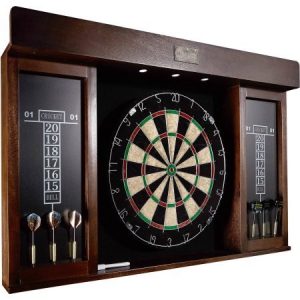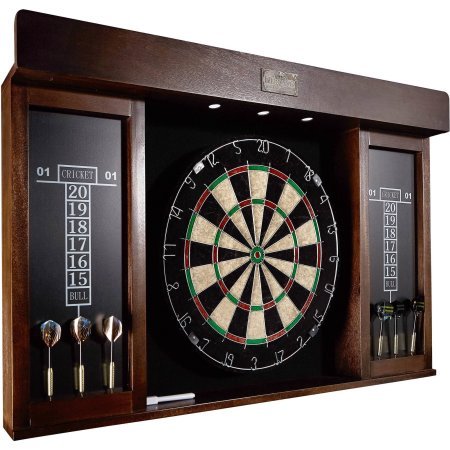 Barrington Billiards produces some fine examples of game room accoutrements. The company is better known for pool tables, but this rustic dartboard cabinet shows the same attention to detail. Let's see what makes the
so great.
Oak finish on veneered wood
Sisal fiber bristle dartboard
Staple-free bullseye
Large cabinet really protects the wall
Antiqued brass hinges and knobs
Safe dart storage
Advantages
Cabinets for dartboards are not always this well-made. Barrington's Webster cabinet is solid wood with an oak-stain veneer. When closed, it has a rustic appeal that evokes a classic country barn. It has large dimensions compared to other dart board cabinet designs. The oversized doors help protect walls from errant shots. Antiqued-brass hinges and knobs complete the rustic appeal of the cabinet.
The cabinet may be the selling point here, but the high-quality bristle dartboard is another bright spot in this set. It is a regulation-size dartboard, with grade-A sisal fiber. The bullseye ring is staple-free, and the stapling on the rest of the spider is sparse. Those other staples really press the wire down around the double and treble segments, though.
Lastly, if you prefer the look of classic black chalkboard, but you do not like the mess of chalk, this may be the set for you. The double scoreboards (set up for cricket and 01) are dry-erase boards in disguise. Using a white marker, the only clue that they are not chalkboards is the lack of messy chalk dust.
Disadvantages
Despite its attractive appearance, the cabinet is made from pressed wood veneer. The Webster cabinet is too new on the market to know how much of an issue this will be, but any veneered wood product can peel over time. You wouldn't know it was veneer if Barrington didn't tell you, though. The Webster cabinet is that good looking.
Another question mark on this set is the starter darts. A common theme on all-in-one dart sets, the starter darts included with the Webster have knurled brass barrels and plastic shafts. The balance on these basic starter darts is always problematic, and an upgrade is necessary. Considering the quality of the other components, Barrington's use of these lackluster starter darts is curious and lamentable.
Verdict
Players in the market for a substantial dartboard cabinet that isn't garish or overly ornate should definitely give Barrington's Webster set a look. The dartboard is a fine implement, even if it isn't the best one available, and the scoreboards are classic and unobtrusive. Thoughtfully placed dart storage blocks and tasteful hardware keep things classy and understated. This is an interior decorator's dartboard cabinet set.
American Heritage Billiards – Cavalier
American Heritage Billiards doesn't just make games, it makes game-room furniture. Known more for pool tables, the company put its expertise to good use in making this set. The
brings class to any game of darts.
Superior build quality to the cabinet
Handsome stain will not clash with most interior locations
Quality bristle dartboard
Decent starter darts with aluminum shafts
Tucked away dart storage
Advantages
The main advantage of this deluxe dartboard cabinet is evident upon first sight. The construction is simply elegant. From the rope detailing on the pronounced crown, to the expertly hung cabinet doors, construction on the Cavalier is top-notch. It is perfectly at home in almost any décor. It suits upscale settings as well as lending a touch of class to more modest surroundings.
There is also very little to do in the way of construction for the purchaser. The Z-brackets on the back of the cabinet are pre-mounted, so installation is as simple as finding the correct height and ensuring the mounting screws find wall studs.
The sisal-fiber bristle dartboard is of a good quality as well. It also comes pre-mounted within the cabinet. It may not be a recognizable, name-brand dartboard, but its sisal fibers are reasonably dense. The starter darts are all-metal, but they lack the heft of players' darts.
Disadvantages
The wires from the number slices extend into the outer bull, practically ensuring the occasional bounce out. For new players who struggle to close out this space, those bounce outs will be frustrating and costly. The staples on the bull will also cost the occasional scoring chance, though staples are sparse around the rest of the spider.
The cabinet is beautifully constructed, but the material is a medium-density fiberboard rather being made from solid wood. The makers of this material claim that it outperforms solid wood in hot and humid conditions, but its ability to age over decades is as yet unknown. Lastly, chalk is a messy way to keep score compared to dry-erase scoreboards.
Verdict
Not a cheap dartboard cabinet by any stretch of the imagination, this American Heritage Billiards offering is nonetheless worth considering. It is more of an heirloom game room addition than a throwaway darts setup. Once you upgrade to better darts (keep the starter darts for visitors), you'll have a dartboard cabinet of which you can be proud.
Other products considered
In our inexhaustible search for the best dartboard cabinet sets, we inevitably hit on some that didn't quite make the cut. Each of the other sets we considered were well worth their price tags, but they all had minor faults that held them back from receiving a recommendation.
The
 is just a tad too recreational, while the
 cabinet set does little more than look the part. Viper is a great brand, which is why we chose to feature its Hudson cabinet bundle. The
 is a decent set, but the Hudson (covered above) is just as good for less cash. And the Viper Stadium cabinet isn't solid wood like the Hudson's cabinet. We didn't compare as many electronic options, but Viper's Neptune electronic dartboard cabinet easily beat out the
.
Conclusion
Today, there are some truly excellent options for players searching for dartboard cabinet sets. Unfortunately, we have no use for multiple dartboards, and so we must choose just one. Demanding buyers on a budget should look to the
. Its combination of solid-wood cabinet, coupled with a great dartboard, is hard to beat at the price point. If money is no object, then the
is a no-brainer. Beautiful in both materials and craftsmanship, this set will elevate the décor in any room. Strict budgets usually require painful sacrifices, but players on a shoestring budget should really only consider the
. You'll get a great, solid-pine cabinet and a quality dartboard with all-metal starter darts. Being forced to share the darts will force a quick upgrade, but that's half the fun in playing the game.
Best Brands
Viper
The Viper brand produces some of the most useable, cost-effective dartboards and darts on the market. Viper dartboard cabinets are always quality affairs, though there is some variance to that quality. Its darts are used by top players worldwide, and Viper even sees fit to include some of its all-metal versions (like the
) in its sets. Were it to include some of its better darts with its sets, Viper would stand out even more against its competition. As things stand, a Viper dartboard and cabinet set is still one of the best bargains available.
Barrington Billiards Company
The Barrington Billiards Company's philosophy is that game room equipment should be made to the same exacting levels of craftsmanship as fine furniture. It focuses on "style and sophistication," as well as making functional pool tables, foosball tables, poker tables and more.
As one would expect from these goals, Barrington's dartboard cabinet sets are as much décor as they are game sets. They lack nothing in functionality, but still bring elegance to any game room. Logically then, these are not the cheapest dartboard sets you can get. However, they are not priced to exclude. These are serious dartboard cabinets for serious players who do not wish to invest in an eyesore.
Hathaway
The Hathaway brand produces game room equipment for just about any budget. Its products run the gambit from table-top pool tables to skee ball. Its game-room equipment won't break the bank, but neither will much of it impress anyone with an eye for aesthetics.
Hathaway's niche is more on functional affordability, and the
is an extension of that philosophy. At first glance, it may seem to compete with any dartboard cabinet on the market, but a closer inspection reveals an execution that is much more about function than form.
American Heritage Billiards
When a company's professed goals include making game-room furniture, rather than just entertainment, you should have a good idea of what its products will be like. American Heritage Billiards makes some beautifully crafted game furnishings, and it doesn't just focus on the games. Its product line includes everything the home pub or bar would need, from stools to the bar itself. Its pool tables vary from simple and understated to bombastic and ornate, but all are gorgeous.
American Heritage dartboard cabinets are not throwaway purchases by any means. They are meant for the discerning player who doesn't mind investing in game-room equipment that may end up in their last will and testament. The cost of the equipment matches the quality, naturally.
Buying Guide
A dartboard cabinet achieves two things that a dartboard alone leaves wanting. First, it conceals the dartboard, giving your game room a touch of class and a finished look at once. Second, it helps you keep your darts setup organized and safely tucked away. Starting a game is as easy as opening the cabinet doors and toeing the line.
The dartboard cabinet marketplace is a crowded one, though. There are many options, but few really good deals. For the most part, you get what you pay for. Low prices may mean cheap darts, a flimsy cabinet or a dartboard that falls to pieces. Then again, there are deals to be had. The key is to accept compromises in facets of the game that you can improve on later.
Cabinet
This is one area on which you should not compromise. However, getting a quality cabinet doesn't necessarily mean it must be made from exotic wood. There will be misses, and you shouldn't live in fear of poking holes in your cabinet. That said, the cabinet will likely be with you for the life of your set, so choose wisely.
Materials
Regardless of budget, look for the best cabinet materials that you can afford. Obviously, solid oak or mahogany will last much longer than pressed wood. But even a solid secondary wood (like pine or poplar) will make for a strong cabinet that lasts a lifetime. Solid wood will handle repeated strikes from steel-tipped darts, and it will be practically impervious to heat and humidity.
When all things are equal, pay heed to the finish on the cabinet and ensure it will match the space in which you intend to use it. Even heavily used dartboards spend considerable time sitting idle, and in those times, it is important that they match the décor. A poorly matched stain soon becomes an eyesore.
Score Keeping
The manufacturer will always include some method of keeping score. Usually, the inside of the cabinet doors will have a backing on which you can tabulate the score. Pay attention to the space you will have to work with, and make certain your favorite games are included.
Dry Erase or Chalk
Cabinets that feature manual scoring will normally include one of two types of systems. The older method is to use a chalkboard as a backing on the doors. The more modern method is to use dry erase boards. There are even some scoreboards that can work with either markers or chalk. Both methods of scoring can be a bit of a mess, but chalk is obviously the messier of the two. Either way, they each require keeping up with supplies.
Obviously, manual scoring will force you to know the rules of the game. Also, players must be adept at arithmetic to keep everything straight and honest. Manual scoring is the affordable way to go, and many enthusiasts find the cabinets more traditional and aesthetically appealing. Still, it isn't the only option.
Electronic
Electronic scoring allows players to explore the pantheon of dart games without having to study the rules of each one. On these systems, the computer knows what space you've hit with each dart, and it automatically applies that score to the game at hand. It eliminates the possibility of miscalculations skewing the outcome of the game.
Electronic boards are typically honeycombed plastic. They require the use of soft-tipped darts. While this may prevent holes in sheetrock, it has a few drawbacks. First, it increases the likelihood of bounce outs. Second, traditionalists frown on electronic dartboards. They cite the missing tactile sensations of the dart striking the board, but it really is a matter of taste.
Dartboard
The dartboard is another area where you simply should not skimp, though you can always replace a poorly performing dartboard later. The first consideration is the materials the comprise the board itself. After that, consider whether or not the manufacturer resorts to stapling the wire that separates the scoring sections, and to what extent.
Materials
Just like any other sporting goods niche, manufacturers of cheaper dartboards save money by using inferior materials like cork or rolled paper. However, most modern dartboards are constructed with sisal. This fiber, sometimes called sisal hemp because of its toughness, comes from a type of agave native to the Yucatan peninsula in Mexico.
Manufacturers bundle the sisal fibers and slice them into small disks called buns. They then group the buns together and press them into the dartboard's shape. The term self-healing is a misnomer. Dart tips actually do very little damage to a quality dartboard. The sisal fibers simply separate, as the tip sinks into the dartboard. Insist on sisal as the material in your dartboard.
Spider
The spider is the wire web that separates the dartboard into its distinct scoring sections. The wire serves to diffuse arguments about which section a dart imbeds in. Cheaper dartboards use rounded wires and staple them to the face. As quality improves, either the bullseye or the entire spider may be staple-free. This feature, along with triangular wires, help to prevent bounce outs.
Darts
The one thing that will help a burgeoning dart player score better is to invest in a quality set of darts that suits their skill level. Practicing with your own darts imbeds the feel for their weight, and groups eventually get tighter. The cost of darts can vary to extremes. Check out the buying guide in our dart comparison to learn more.
The darts included in your dartboard cabinet set should be the lowest on your set of priorities. As long as they're of a decent quality, you will be able to learn good form with them. As you improve, you will discover which characteristics suit your game, and you can upgrade at that time. There is almost no chance the darts included in your set will suit you, so pay this aspect little mind.
Add-Ons
There are several amenities that manufacturers include or exclude from their dartboard bundles, depending on the price point. Laser oche markers are a nice thing to have, but they are ultimately not necessary and are often discarded. Sets which include a second set of starter darts are also no big bargain, as these darts will likely be replaced. Do not let the gimmick of add-ons sway you from a quality dartboard cabinet to a lesser one with all the bells and whistles.
Finally, you could of course build your own if you have the materials and the time. Here's a video that might help you decide: