Last updated on October 1, 2021
Every gamer needs a good set up. That's just fact. In order to get the most out of your gaming experience, you need to find the best gaming desk to suit your needs, whether that includes ample room for monitors, the perfect hideaway for your keyboard or even just something that is a comfortable height and fit for your body. Long hours of gaming should also be pleasant ones! Let's take a look at the reasons you need a gaming desk, some of the things you should be looking for when shopping for a gaming computer desk, and then we will check out some of the desks I've had the chance to use and review for you to save you the time and the money.
Best Gaming Desk Overview
What to Look for When Buying a Good Gaming Desk
There is a wide array of gaming desks out there, but what makes each one unique from the other? What features do you need them to have to personally suit your needs? Do you need single or dual monitor arms? Good wire management? A CPU holder? Do you want ample legroom? These are some of the things you must consider when purchasing your gaming desk. You can find a good, cheap gaming desk that boasts all of these features. Some other things to consider are:
Ample Room
Whether you like use your laptop on a hard surface or use one monitor, or if you are a hardcore gamer with a 4 monitor and full tower set up, you are going to need enough room above and below for your monitors, keyboard, system, mouse and other important items.
Weight Capacity
If you find that you are going to need more surface space, be sure to think about how much weight the desk can support. The best desks for gaming can usually support between 40 to 100 lbs.
Adjustable Desk
Height is important if you are going to be comfortable on those long nights, or like to change it up between sitting and standing.
Desk Layout
Alongside enough surface space, consider whether or not you want shelves to store and distribute your items. This includes storage drawers, monitor stands, controller hooks, speaker trays or a slide-out keyboard tray.
Other Things to Consider
Shape
Choose the right shape for your dedicated gaming room or office area. This includes considering things like an L-shaped desk for that unused corner of the room.
Standing/Sitting Desk
Choose a gaming computer desk that can let you stand and use your computer if you prefer. Sitting all of the time can get uncomfortable, so maybe think about one with super-adjustable height. Now for the fun part: I've put together some extensive gaming desk reviews of what I consider to be some of the best gaming desks out there and have extensively tested them all with a gaming chair, mouse, mouse pad, keyboard and coffee pot at the ready. So, which one is the best computer gaming desk for you? Read on to find out.
Best Gaming Desk 2018
Atlantic 33950212 Gaming Desk Pro
Satisfaction:

Price:
Overall, the Atlantic 33950212 Gaming Desk Pro was comfortable and convenient. It came with a nice shelf above the rest of the table for additional table space below and a keyboard tray below that, which I found incredibly helpful for multitasking. It was certainly ergonomic and had a nice selection of features that made it easy to sit down and never want to stand back up. Definitely one of the best desk for gaming I ever tried. Take a look:
Conveniently Elevated Shelf
There is a shelf above the actual surface itself that measured 6 inches high by 7 inches wide and 22 inches long, perfectly suited for my 32-inch monitor. Below, I was able to place my laptop on it and hook it up when I wanted for a compact dual-screen experience, or use it to chat with those I was gaming with without having to close out of my game to do it. I also noticed that the desk itself could support around 40 pounds of weight, which is more than enough if you don't have a million monitors.
Ergonomically Curved Desktop
This was one of my favorites. With the Atlantic 33950212, gone are the days of hunching over your gaming computer desk to better see the enemy approaching. This desk is slightly curved at the front, allowing you to scoot in your chair as much as you want to better see the screen and to better reach your mouse and keyboard–and to better dominate the enemy team.
Variety of Accessories
The Atlantic 33950212 comes with everything you need to keep all of your gaming equipment near, as well as a few other things like drinks so you can go for hours. It has a charging stand that keeps your phone and tablet ready to go, speaker trays that can hold speakers up to 6 inches by 5 inches in size, game storage for your discs, a keyboard tray (which is lovely), a rear powerstrip and wire management that keeps all of that mess in its place, and finally a headset holder and a cup holder than can fit a large drink. Truly, what else could you ask for?
Aesthetic Appeal
We all want our set ups to look sleek and ready to show off to our fellow gamers, and that includes not only the electronics involved, but also the actual look of the desk itself. The Atlantic 33950212 is smoothly finished with a charcoal-colored fiber surface that is absolutely gorgeous and looks great in any gaming set thanks to its neutral color and minimalist design.
Pros of the Atlantic 33950212:
Ergonomics. This desk is incredibly comfortable and sits at a great height for the average gamer. The way it curves, along with the keyboard tray, make it so that you aren't straining to get at those necessary tools you need to play and win.
Features. Having a cup holder to store those much-needed caffeinated beverages is such a plus. It's also nice to have a place to hang controllers and a headset, as those are things you are going to need every time you sit down and won't have to hunt for them anymore. The charging stand is great, too, so you don't have to use up the spaces on the power strip to charge your phone. Did I mention how much I loved the elevated monitor station, too, because that is incredibly convenient?
Drawbacks of the Atlantic 33950212:
The only real drawback I can find in the Atlantic 33950212 is that it's a bit less sturdy than I'd hoped. It won't tip over with a little bump or anything, but I can feel it move a bit when I get too excited after a win. I solved this problem easily by just adding a bit of support and sticking it against the wall securely instead of leaving any room behind it. Outside of this, this desk is golden.
Walker Edison Soreno 3-Piece Corner Desk
Satisfaction:

Price:
The Walker Edison Soreno 3-Piece Corner Desk is a great, cheap gaming desk for the gamer who needs plenty of room. It has a sleek design that looked wonderful in my office and definitely added to the modern motif I have going on in there. It has a neat concept going on with the keyboard too, so let's take a closer look.
Features of the Edison Soreno 3-Piece Corner Desk
The Edison Soreno 3-Piece Corner Desk is another great choice for those with multiple monitors. It has a unique set up and ample room, both on top of the desk and below it. It is durable and sleek. Read on for more information.
Flexible Configuration
I want to talk about this first because I think it makes this desk stand out. The Edison Soreno 3 has a unique, versatile way to set up your desk. Not only can you mount your sliding keyboard tray on any side of the desk to let you truly choose how you play, you can take the desk apart and use it as two standalone desks, too. All you have to do is omit the center part of the corner desk from set up, and you can get two desks in one out of this beauty. It also includes a CPU stand that makes gaming even more convenient. The Edison Soreno 3-Piece Corner Desk can also support the weight of multiple monitors without concern of it collapsing and ruining your expensive equipment.
Plenty of Room
Being comfortable while I game is really important to me, because as an avid gamer, I spend most of my downtime sitting in front of my battle station. The Edison Soreno 3-Piece Corner Desk delivers on space. The actual surface area includes two 21-inch deep rectangular desktops which I use the most. It also has a quarter-circle shaped desktop for even more surface area. All of them put together give you more than enough space to spread out and do what you need to do. Legroom is another plus. I'm a tall person and sometimes feel cramped with other desks. That isn't the case with the Edison Soreno 3-Piece Corner Desk, and I love this desk for this reason.
Durable Construction
The Edison Soreno 3-Piece Corner Desk is beautiful, for one. It's sleek and polished with beveled, tempered safety glass with angled edges to stop any scratching of your arms or chipping of the glass itself. It comes with a durable steel frame that is nice, steady and finished with a powder coat. It measures a nice 51 inches wide by 51 inches tall.
Fast Assembly
Most desks come in a billion pieces and take what feels like a century to set up, but that isn't the case with the Edison Soreno 3-Piece Corner Desk. This desk took me maybe 20-30 minutes to install using a drill. I imagine it would take a little longer manually, but not nearly as long as some of the other desks out there. It came to me packaged in a lot of protective styrofoam and ready to build, with included step-by-step instructions. Good stuff.
Pros of the Edison Soreno:
Leg room
Versatile set up with the keyboard and desk configurations
Incredibly durable and beautiful to look at
Quick set-up
Ability to make it into two desks
A lot of surface space
Drawbacks of the Edison Soreno:
The one downside to the Edison Soreno 3-Piece Corner Desk is the fact that it didn't come with any way to properly manage my wires; however, I honestly didn't mind this. Most of my desks have been this way, and wire management is as simple as investing in a couple of zip ties, which you probably already have. I'd hardly let this stop me from purchasing the desk. The rest of the features are too good for that.
BHG Gaming Desk Table Durable Workstation
Satisfaction:

Price:
Strong and Beautiful
The first thing I noticed about this desk is that it is incredibly lightweight. I was able to move it around easily to find the perfect spot, which I think makes it great if you need to move to a different place or move it into a dorm. It has a little black metal design around the foot that gives it a nice look. It is fantastically durable–I clumsily have knocked into it a few times, and the monitor didn't even shake.
Plenty of Space
You don't have to worry about the BHG Gaming Desk Table Durable Workstation not providing enough space, even with its compact nature. It gives ample room on top for two monitors, and depending on their size, you may even be able to fit in a third one. It fits my tower perfectly while still lending me enough room to move my mouse freely and navigate the keyboard comfortably.
Simple, Compact Design
This is a great desk for those who don't want anything too flashy; just the bare bones that can fit any room and easily get the job done. I really enjoyed its minimalist, modern-looking design and it certainly fit my needs. It is on the smaller side, measuring 23.75 inches wide by 47.75 inches long by 29 inches tall.
Easy Assembly
The BHG comes with everything you need to get started. It may seem obvious, but I only point that out because sometimes these desks will come without any screws to set them up. The tools are included, too, and its detailed instructions made setting up the BHG Durable Workstation a dream. I was gaming in no time.
Pros of BHG Gaming Desk:
Ample space above and below
Lightweight and easy to move
Quick assembly
One of the good gaming desk available on the market
Exceptionally durable; may be one of the steadiest desks I've ever used
Drawbacks of BHG Gaming Desk:
The size might be a deterrent for some, but I found it nice. You don't always need a massive desk, especially in a smaller home. This is great for dorms or kids rooms or even a smaller office space that you don't want to fill up too fully.
Pro-Line II / OSP Designs Prado Complete L-Workstation
Satisfaction:

Price:
If you're like me and have a few monitors you like to play with and also enjoy the more minimalist approach to life, the Pro-Line II is going to work out swimmingly. It was designed with simplicity in mind and does everything that you need it to within its sturdy construction. Check it out.
Huge, Versatile Workstation
The Pro-Line II is first and foremost a 60-inch by 66-inch L-shaped battle station. No matter which corner of the room you put it in, this desk can fit thanks to its ability to be assembled in either the left or right direction. It has a smooth, laminate top that looks great beneath my monitors. There is no cord catch or anything in the center of the L-shape desk that will stop you from sliding around in your desk chair to get things done. Its sturdy metal construction promises a long life, too, which makes this a great buy, something I won't often say in my gaming desk reviews. I like to leave that up to you, but sturdiness goes a long way for me.
Convenient Wire Management
Unlike most wire management systems, the Pro-Line II Workstation comes with metal cable management covers instead of plastic ones which also helps to promote a long life. The dual-cord grommets fit your cables neatly and effectively tuck loose cables out of the way.
Adjustable Height
This is an important aspect of a gaming desk to me. The Pro-Line II can be adjusted a bit to help you find the right height for you with the help of the threaded feet with plastic bottoms.
Quick Assembly
The Pro-Line II / OSP Designs Prado Complete L-Workstation took no time at all for me to set up. Included are all of the Phillips head screws you will need, which is perfect, as most of us will have the common screwdriver needed to insert them. I'd say the manual set up took a little under an hour.
Pros of the Pro-Line II:
Ultra durable
Ample workspace
High-quality cable management
Can be assembled left or right
Room for multiple monitors
Adjustable height
Drawbacks of the Pro-Line II:
Some may be dismayed by the price due to its simplicity, but I think the construction, the unique wire management and the incredibly spacious desktop make it all worth it.
HomCom 61 in. Modern L-Shaped Computer Desk
Satisfaction:

Price:
Convenient Keyboard Tray
One of the things a lot of desks don't seem to take into consideration is space for the keyboard. While placing it in front of me on the desktop is fine, it isn't ideal. The HomCom 61 in. uses a slide-out keyboard tray that comfortably accommodates my keyboard and allows me plenty of room up top to move my mouse around on.
Plenty of Space for All Necessities
Speaking of space, the HomCom 61 in. has plenty of it, especially with the keyboard out of the way. Not only am I able to have free range of my mouse space, I have plenty of room for my speaker set up, multiple monitors, papers and guidebooks and even my PC if I want to set it atop the table for aesthetics. It measures 61 inches by 51 inches by 30 inches.
Durable Frame
The HomCom 61 in. never wobbles or shakes no matter how rough I treat it. It is made up of a powder-coated steel frame that allows for me to have peace of mind that this desk will stand the test of time.
Gorgeous Finish
Another thing I love about the HomCom 61 in. is the fact that it just looks nice in my space. It has MDF panels that have been finished a wood grain that definitely adds to the visual appeal of my room and easily matches up with the rest of my decor.
Pros of the HomCom 61 in. Modern:
Powder-coated frame
Roomy
Slide-out keyboard tray
Space-saving L-shaped design
Wood finish
Downsides of the HomCom 61 in. Modern:
Assembly. Some online reviews stated that assembly was difficult, but if you follow the instructions closely like I did, you shouldn't have an issue. No wonder some consider the HomCom 61 in to be the best computer gaming desk.
Halter ED-258 Preassembled Height Adjustable Desk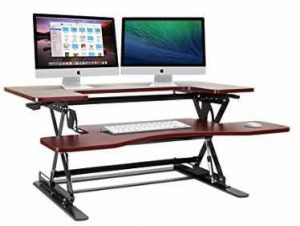 Satisfaction:

Price:
Great for Sitting or Standing
The Halter ED-258 is great for when I get too excited or get ahead of myself as I can stand up when I need to. This also ensures that I don't just sit for the entirety of my gaming marathon and get a chance to stretch out every once in a while.
Switch Between Sitting and Standing with Ease
To transition between sitting or standing, all I have to do is squeeze the handles on either size at once and then lift or lower the table. Then, I let go of the handles and the table locks at my desired height.
Already Assembled
A convenient aspect of the Halter ED-258 is the fact that it comes fully assembled. All I had to do was stick the desk on the top of the table and it was ready to go which is a nice change from setting up complicated desks.
Nicely Sized
The Halter ED-258 allows me to use two monitors at once and still have room for everything else. Measuring 35.6 inches in length by 20.4 inches in width, it also fits easily into my room and doesn't crowd up my small space.
Pros of the Halter ED-258 Preassembled Height Adjustable Desk:
Comes assembled
Easy to transition between a sitting or standing desk
Spacious size
Downsides of the Halter ED-258 Preassembled Height Adjustable Desk:
Price. One of the more expensive gaming desks, the Halter ED-258 is worth the money due to its spacious, yet compact nature and its ability to allow me to stand or to sit comfortably.
Tribesigns Modern Simple Style Computer Desk
Satisfaction:

Price:
Doesn't Shake or Wobble
I have noticed that the Tribesigns Modern Simple Style Computer Desk does not feel as if it is going to give out, no matter how much I move during game play. This makes me feel secure positioning my expensive monitor on it.
Spacious and Wide
The Tribesigns PC desk is 23.6 inches wide, giving me plenty of space for my monitor and even a printer with plenty of room to write and study as need be without taking up too much space in my room.
Ultra Durable
Not only is it wide and accommodating with plenty of legroom, it's made from .98 inch-thick laminated MDF that is resistant to both scratches and water damage. The frame is made from powder-coated steel which helps with its anti-shaking properties.
Simple to Put Together
All I had to do to assemble the Tribesigns was install the four legs and the two included leg bars. It really only took me under twenty minutes to do it by myself which is a nice change from other gaming desks assembly processes.
Pros of the Tribesigns Modern Simple Style Computer Desk:
Durable Materials
Easy to assemble
Inexpensive
Large, accommodating design
Sturdy metal legs
Downsides of the Tribesigns Modern Simple Style Computer Desk:
Textured top. The top of the Tribesigns Modern Simple Style Computer Desk has a bit of a textured feel to it, but since I use a mouse pad, it does not seem to get in the way of my gaming.
Z-Line Belaire Glass L-Shaped Computer Desk
Satisfaction:
Price:
Takes up Minimal Space
Even though it has plenty of room up top, the Z-Line Belaire Glass L-Shaped Computer Desk comes in a nice L-shaped design that makes it simple for me to stick into any corner of my room instead of having to worry about it taking up all of my wall space.
Sturdy and Beautiful
The Z-Line Belaire Glass L-Shaped Computer Desk uses a really durable and sturdy metal frame that comes with reinforced plates atop the welding joints that have been given a black powder coat finish. I love the clear, 6-millimeter thick tempered glass on the desk that is just as beautiful as it is strong.
Helpful Features
The Z-Line Belaire Glass L-Shaped Computer Desk comes with not only a display shelf up top that is great for storing my speakers and other smaller items, it has a slide-out keyboard tray that provides me with even more room for my mouse, monitors, books and more.
Easy to Install
Though it does take a little time to install, the installation process was simple. The Z-Line Belaire Glass L-Shaped Computer Desk package includes all of the hardware that I needed to complete the job along with an instruction manual that was simple enough to follow.
Large and Spacious
The Z-Line Belaire Glass L-Shaped Workstation measures a nice size of 60 inches in width by 24 inches in depth by 37 inches high, providing me with not only an exceptionally roomy surface area but a great deal of comfortable leg room as well.
Pros of the Z-Line Belaire Glass L-Shaped Computer Desk:
Display tray
Large in size
Simple assembly
Slide-out keyboard tray
Downsides of the Z-Line Belaire Glass L-Shaped Computer Desk:
Display shelf. The shelf on the desk isn't removable, but it is so convenient that I wonder why anyone might want to take it off to start with.
HomCom 64″ Modern L-Shaped Glasstop Office Workstation
Satisfaction:

Price:
Beautiful and Sturdy
The HomCom 64″ Modern L-Shaped Glasstop Office Workstation has a sleek, contemporary design that not only looks great in my space, but also it is held up by a stable steel frame that has been powder coated and does not wobble at all.
Spacious without Being Too Large
With its L-shape, the HomCom 64″ fits excellently out of the way in the corner of my relatively small game room but still provides me with ample desktop space for me to game comfortably.
Useful Compartments
Unlike some other gaming desks, the HomCom 64″ has a slide-out keyboard tray that helps me save room for other things such as my monitor, speakers, books and more. It also comes with a dedicated area in the center of the "L" for my CPU which I thought was very thoughtful as normally I end up kicking my computer by accident.
Simple Assembly
Assembly of the HomCom 64″ is easy and took me what felt like no time at all. In the package, there was everything that I needed to set it up with swiftness.
Pros of the HomCom 64″:
Contemporary look
Designated areas for both the CPU and the keyboard
Durable
Easy to put together
L-shape design
Slide-out keyboard tray
Downsides of the HomCom 64″:
Price. The HomCom 64″ Modern L-Shaped Glasstop Office Workstation is one of the more expensive models out there on the market, but with its modern design, space-saving L-shape desk, durability and spaciousness, it is definitely one of best desk for gaming.
Studio RTA Producer Station Maple
Satisfaction:

Price:
If you like keeping everything close at hand and enjoy the tidiness of keeping everything perfectly tucked away, look no further than the Studio RTA Producer Station Maple. With ample storage space, plenty of surface area and a durable construction, you will love this convenient desk. Read on for more.
Immense Storage Capabilities
The Studio RTA Producer Station Maple has an extra large 26.25-inch wide slide out keyboard shelf that lets you place even the most extravagant of gaming keyboards inside. An 8-space rack will accommodate equipment on the top of the desk and dual 8-space CD holders are present for your favorite games. The top tier holds more keyboards or even a monitor. Two small sliding tiers can hold keyboards and mice, and there are cable organizers in the back to keep your wires from tangling and keep them out of sight. Dual 20-space racks are also included. This desk is an organizer's dream!
Very Spacious
Both the desk portion of the Studio RTA Producer Station Maple and the upper tier are spacious, and the combination of the two affords even more space because you can keep the monitor or monitors out of the way and place a notebook or anything else below.
Ergonomic Workspace
Staying comfy while gaming is imperative to the experience, and this desk delivers. It has an ergonomically shaped top that provides ample elbowroom and you can rest your feet on the very bottom tier if you aren't using it for your tower. You also have easy access to everything in those storage compartments without needing to strain yourself.
Durable Desk with Straightforward Assembly
Getting the Studio RTA Producer Station Maple set up took me about an hour, hour and a half at most. It was heavy to carry in, so make sure you don't do it alone, but once I got it inside and out of the box it was easy to see why. This desk is highly durable and sturdy. Nothing will knock it over once it is set up. It has a steel frame construction that is a weighty force to be reckoned with. The Studio RTA Producer Station Maple measures 72 inches wide by 31 inches tall by 30 inches deep.
Pros of the Studio RTA Producer Station Maple:
Incredibly durable
Ridiculous amounts of storage
Ergonomic design
Spacious tiers
Easy assembly
Drawbacks of the Studio RTA Producer Station Maple:
Coming in at a whopping 150 pounds when assembled, this desk makes it hard to move it in and out of homes once put together.
Top Recommendation
And the winner is… the
! I can't stress enough how amazing this desk is, and I would definitely purchase it again. It is a complete, total gaming station that has everything you could possibly need, right down to the cup holder. Everything is out of the way yet right within reach, giving you an immersive and comfortable gaming system that you won't want to step away from.
Benefits of Buying a Gaming Desk
Gaming is something that takes up a lot of your time if you are super passionate about it. It's likely you will be sitting or standing at your desk, playing with your buddies for long hours; therefore, you should have a desk that accommodates your needs. The best computer gaming desks tend to be more ergonomic and well equipped to handle those extended campaigns and quests. Gaming desks are also adjustable and can be brought up or down to suit your height.
Another perk of these kinds of computer desks is that they deliver a more efficient use of your space. Gaming desks tend to have ample legroom and some even have storage compartments for keeping headsets, discs and other important items close at hand and those pesky but necessary wires where they belong. A standard, clunky desk just won't do when you're an avid gamer.
Tips on Choosing the Best Gaming Desk for Your Needs
With these features in mind, think about the following when determining what is going to better suit your budget, storage and space needs in your gaming room:
Budget
If you aren't prepared to spend your life savings on a desk, you can still find a cheap gaming desk that can accommodate your needs. Keep your budget in mind so that you can spend the rest of your cash on DLC for that game you just pre-ordered.
Features
Pick something that is going to be able to accommodate the gaming set up you already have, along with any expansions you plan to add onto it.