This post may contain affiliate links — Please read our affiliate disclosure.
Last updated on December 3, 2019
If you're a newbie to the world of basketball, you may not know the differences between an indoor and an outdoor basketball (if any at all), and we hope that this article will guide you in the proper direction for finding the answer. Maybe you're serious about getting more into the physical side of the sport and want to up your game. Continue reading on and hopefully you'll find your answers! Then, you can check out the best indoor basketballs that have been compiled just for you.
Image
Top Indoor
Top Indoor/Outdoor
Product
Baden Elite Indoor Game Basketball - Size 6...
WILSON Evolution Game Basketball - Game Ball, Size...
Spalding NBA Zi/O Indoor-Outdoor Baskeball 29.5"
Under Armour 395 Indoor/Outdoor Composite...
Image
Product
Baden Elite Indoor Game Basketball - Size 6...
Top Indoor
Image
Product
WILSON Evolution Game Basketball - Game Ball, Size...
Top Indoor/Outdoor
Image
Product
Spalding NBA Zi/O Indoor-Outdoor Baskeball 29.5"
Image
Product
Under Armour 395 Indoor/Outdoor Composite...
The Differences Between the Two Basketballs
One of the first differences between an outdoor and an indoor basketball is the material. Indoor basketballs are typically ones that are used in WBNA and NBA games, and are composed of a type of leather called "full-grain". Normally, this kind of ball is rather heavy when it comes out of the packaging, and you'll need to break it in quite a bit before you bring it into your competitive gameplay. If you don't, your shooting and dribbling might suffer greatly.
Basketballs that are meant specifically for an outdoor environment are ones that can be used instantly and are made of standard rubber. Ones that are made from rubber are typically rougher to touch because of their lack of pebbles within their design. Now, if you want to know about the textured design of an indoor basketball, you'll be pleasantly surprised to know they have many more "pebbles" on their surface – 122 per square inch, to be exact, and are great for keeping a firm grip.
Even when professionals handle the ball on the court and have sweaty hands, the pebbles per square inch allow the fingertips to hold on with ease, and you won't have to worry about dropping the ball anytime soon. Outdoor basketballs are lower quality for this very reason – worse handling.
The durability of an indoor basketball on a non-indoor surface will cause wear and tear rather quickly. Since the leather isn't weathered or made for such a rough terrain, you'll be buying a brand-new ball rather quickly. When you use them on the surfaces they were intended for, you won't be buying a new one anytime soon.
Because of the aforementioned quality differences, you can expect a leather "full grain" basketball to be quite costly in comparison to it's cheaper counterpart, which is why outdoor basketball is quite a common sport for youngsters. If you're buying for younger kids, finding the best kids indoor basketball will be surprisingly easy thanks to our guide.
The Best Indoor Basketball Reviews
Check out the best indoor basketball reviews below to make an educated decision on your next recreational purchase!

First on our list of reliable indoor basketballs is the
, meant specifically for interior courts – not the asphalt outside of your home. Being approved by the NFHS, you won't have to worry about a declined performance. The basketball in question comes in the Intermediate size 6 – a noted 28.5-inches. For those that need something bigger, the official size 7 is an inch bigger and can give you the speed and agility you need in your game. Better ball control for an inexpensive price is something all non-professional teams should strive for.
The superior grip also ensures that even the sweatiest of hands won't be able to shift your game, and you can bounce and balance your ball perfectly for better passing and playing. The Symmetrical design was specifically engineered for those that want to have consistency in their play.
While Baden is a fantastic brand, you may want to stick with the Elite series versus the element, depending on your playstyle or needs. The Elite has a high tack feel with cushion control, symmetry balance, and an advanced microfiber design. According to the manufacturer, this is the only basketball on the market that has a symmetrical design for consistency and a quality bounce. For the price, it can't be beat!
The Advantages of the Product
Approved by the NFHS
Great for indoor usage
Designed with tack and superior grip
The two different sizes depend on your needs/league, as the larger one is for men's, whereas the smaller one is for women, as well as intermediate/youth basketball leagues
The Disadvantages of the Product
Unfortunately, there are no ball pumps included, but the ball is fully inflated upon arrival
Not meant for outdoor usage
Has a high tack feel, unlike Baden's natural leather Element series ball
Let's take a gander at another ball you may benefit from using.

We can't forget to incorporate world-renowned Wilson into the mix when it comes to basketballs. A creator of some of the best balls on the planet, the
has quite a few impressive feats. While there is a price range depending on what you get, for those that want high-quality, you may want to pay a little more. The pebble surface we mentioned earlier is implemented within the deign of this ball and provides high-definition grip for a better performance.
The sponge rubber on the design of this basketball is low-density but has butyl rubber in the design for an even softer feel. Performance and comfort are all in open with this fantastic and well-respected ball. There are two sizes offered, including a women's/youth/intermediate sizing of 28.5-inches, as well as the standard men's 29.5-inches.
The design also has a rubber bladder thermal-molded design. There's even a nylon thread incorporated that's 3-ply for optimal performance! While "official" will cost you more, there is plenty that will give you your money's worth. These inferior features include enhanced control thanks to the laid-in channels that reduce slippage from sweat, as well as a fantastic cushioned core for a comfortable grip and playstyle.
The Advantages of the Product
Cushioned core design
Ready to play right out of the box, unlike many other "official" balls
Two sizes available for this style of Wilson ball
Superior grip from the thousands of pebbles on the texture surface
Fantastic price for the quality offered, especially at an official level
The Disadvantages of the Product
Some find that the ball deflates rather quickly
Can get slippery in comparison to other indoor balls
Leather will not hold up to any hit against an outdoor floor – you'll be wasting money if you use this outside!
We have more – hold onto your hats (or your balls)!
The Best Indoor / Outdoor Basketball Reviews
Of course, there are plenty of people that want to play both indoors and outdoors and may be on a budget. While you shouldn't take these kinds of balls to a professional game, these are fantastic balls that will suffice you during both indoor and outdoor without wasting any money.

Spalding, like Wilson, is another fantastic brand to look out for when it comes to sport balls – basketball included.
, this is one of my favorites for versatile and fun gameplay. An official size of 29.5-inches, this is best for men's games or those that have larger hands, not for intermediate play – unless your youth are large enough!
Using the official NBA's ball weight for a basketball, you'll be able to play indoor and outdoors with NBA's strict regulations and specifications for a ball. There is a full pebble design around the ball that ensures a tacky, yet soft, feel for the most superior gameplay (for a versatile ball).
The composite leather, known as Zi/O looks genuine, but doesn't require you to shell out the money for genuine leather. Plus, you're able to use this kind of composite leather on an outdoor terrain, saving you tons of money, but still providing you with a fantastic performance!
The design also features a foam backing design for better gripping as you're playing, no matter the weather, the sweat, or the environment.
The Advantages of the Product
You can use this ball both indoors and outdoors
The official size of this basketball is 29.5-inches, official weight for an NBA ball
The outer texture is composed of composite leather, and feels soft to grip
The Disadvantages of the Product
Not the best for indoor-only usage, as the quality may be a little lower to better suit outdoor play, as well
When it comes to competitively gameplay, a fantastic design is key in providing a successful performance.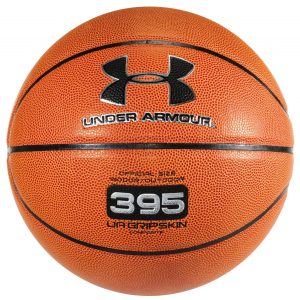 One of the cheapest balls we've seen on this list,
and is meant for both indoor/outdoor play. The windings on this ball are fantastic for retaining the circular shape that is so desired for this playstyle, as it's composed of 70-percent nylon. You'll also see the UA gripskin composite on the overall design of this ball, allowing you to have the best grip over the ball and a comfortable feel. Without, you may not be that comfortable using this versatile ball in your gameplay.
Last but not least, this ball has a 100-percent butyl bladder for the best air retention during your performance.
The Advantages of the Product
There are two sizes offered – official size 7, and intermediate size-6
Features GRIPSKIN composite for the best feel and grip
Traditional design for a classic performance
Fantastic price for quality offered
The Disadvantages of the Product
May not be of the highest quality for strict indoor play during competitive / official games
The Final Verdict
Now that you've seen the best indoor basketballs, as well as ones that can cover both bases for the time being, it's time to make the decision on what you personally feel the best indoor basketball is! There is plenty that the aforementioned products offer, while being within a wide variety of price ranges. Make your choice and amp up your gameplay today!