No piece of equipment is more personal to a pool player than a cue stick. Although not everyone needs or even desires the flashiest, most expensive cue, having a straight and solid tool to move the balls around the table makes your play much more consistent. So, the question is, do you need to drop a thousand bucks on a pool cue, or will a simple house cue suffice? For most of us, the answer lies somewhere in the middle. We'll discuss in depth the parts of a cue that matter in the guide at the end of this page, but first let's have a look at what we consider to be the best cues available today for most players, most of the time.
Looking to outfit your entire game room? Be sure to check out our guide to the best pool tables too.
The Best Pool Cues

Viking has been making cues in America (Wisconsin) since the late 1960s, and it has made a name for itself in terms of quality and playability ever since. Valhalla is an import subsidiary of the Viking brand. Its cues are designed and backed by Viking's engineers. The
 is the flagship of the company.
Premium leather tip
High-impact resin ferrule
Hard rock maple shaft and butt
Urethane finish
Irish linen wrap
Advantages
This Valhalla cue has several features of a high-end players' cue, but at a fraction of the cost of many of those specialty tools. The hard rock maple shaft is unbeatable, and the Irish linen wrap keeps your grip light. The stainless-steel joint (5/16-inch by 18) provides a tight connection from the maple butt to the shaft, and three nickel-silver rings keep everything together solidly.
Viking backs its Valhalla cues with a lifetime warranty against warping. Do not let the cost fool you. These cue sticks are perfectly straight and imminently playable. Perfectly balanced, their weight is true, and they produce a solid hit with little-to-no vibration. The 13-milimeter tips come rounded and scuffed, the ferrules are shaved perfectly, and the cue is ready to play from the moment you receive it.
Disadvantages
For the price, one should not expect much in the way of adornments from this entry-level Valhalla cue. There are no inlays, and the staining can be somewhat inconsistent from one cue to the next and from the butt end to the forearm. The resin collar lacks the solid feel and energy transfer of steel.
Better players will also lament the lack of sizing options. The 13-milimeter tip is the most common size, but players who prefer thinner or wider tips are out of luck. The same is true for the 58-inch length of the assembled cue. That length is typical, but players who prefer the English that a longer cue can impart will find the Valhalla wanting in that department.
Verdict
Valhalla cues are the perfect option for newer players who are getting their start in the game. They are a definite improvement over the no-name sticks you will find at most big-box stores, and they are lightyears ahead of the house cues most bars and pool halls have available. For the price, they are hard to beat. But no one is going to confuse a Valhalla for one of its parent company's better sticks.

The
 with Irish Wrap is a fine addition for a home bar or game room. It is not, however, a players' cue and will never be confused for one. It is a simple tool, meant for players who just want to get the job done.
All-maple construction
Leather tip with glued-on ferrule
Irish linen wrap provides grip
Steel joint and pin
Available in 18- to 21-ounce weights
Advantages
These Iszy cues are priced right for new players who want to see if their games would improve if they ditched the house cues. The maple butt ends are solid and straight, and they have remarkable feel for such an affordable implement. Steel joints and rings are a nice addition for a cue in this class as well.
Another nice touch is the Irish linen wrap, which is seldom found on cues in this price range. It provides a sure grip, and gives the cue the look of a much more expensive stick. The glue-on leather tip is pre-shaped and ready for play, and the plastic ferrule is flush to the shaft.
Disadvantages
The biggest detraction of these Iszy cues is that they require the utmost in care to prevent the shafts from warping. They are fine for play, but they will not survive life as a breaking cue. Complaints of warped shafts are not common with Iszy cues, but the fact that they exist at all is a troubling sign. A good player can still shoot with a warped cue, but learning on one is an exercise in futility.
Iszy cues look great in photos, but they are not quite as attractive in person. The decorations on the butt, which are typically inlays in a better cue, are simply decals. They do little to add to the attractiveness of these cue sticks, though you can remove them if you wish.
Verdict
Iszy cues are as basic as it gets, but that is just fine for most beginning players. They are perfect for a player who just needs a cue to start out with, as they will teach you what to look for when you are ready to upgrade. Not much stands out with these sticks, in either good or bad ways. They are like a cheap kitchen knife: They get the job done but not in spectacular fashion.

There are a few items that new players who decide to construct a home game room inevitably discover they need, and a cue the Shorty (Mizerak Shorty Cue (1 Piece), 40") is one of them. The
 pool cue is a must-have for tables in confined spaces, but it has other uses as well. Let's see if this is the right stick to meet your specialty-cue needs.
40-inch overall length
Hardwood construction
One piece
12-milimeter leather tip
For specialty uses
Advantages
The Mizerak Shorty is just what you would think it is, a short-length cue stick designed for several special uses. Cue sticks of this length are typically used on shots where a wall or other obstruction keeps the player from being able to use a full-length cue. In that role, the Shorty performs excellently. When confronted with cramped quarters, most players are content to just get the shot off, which a Shorty helps them do with aplomb.
The Shorty is also useful for better players who know how to jump and masse the cue ball. On these shots, a short stick is simply more comfortable to use. However, new players will likely struggle to learn these shots with the Shorty as it is set up, owing to its firm leather tip.
Disadvantages
Anyone looking into the Mizerak Shorty as a kid's cue should think about their purchase first. These cues are not designed for breaking or for continuous hard shooting. Children often enjoy the game, but their play tends to devolve into simply smacking the balls together and watching them fly around on the felt. This practice is destructive for any billiards equipment, but the Shorty will simply not survive such abuse.
Verdict
As a sometimes-used specialty cue, the Mizerak Shorty deserves a place in any game room or bar. That place should be right next to the bridge stick, and it should be used just about as often. This cue is not meant for constant play, and it will not shine in such a role, even as a kids' cue. But, for occasional use as a jumping or masse stick, or for use when that stupid wall gets in the way, the Shorty is a winner.

There is much room for innovation in the pool cue industry, and this
 is a prime example of that fact. Some AB Earth sticks provide a completely new take on grip, owing to an ergonomic design on the butt, while others go the traditional wrapped route. Is an AB Earth cue the right one for you? Let's find out.
Maple butt and shaft
Ergonomic grip
Steel pin with brass receptacle
Unshaped leather tip
Advantages
Not every player likes the look or feel of linen-wrapped cue sticks, and manufacturers are constantly introducing new designs on the market. AB Earth has its own idea about how to provide positive grip. The fingers of your back hand will fit comfortably in the undulating butt of the ergonomic, two-piece cue. It is an unusual yet functional take on the concept of grip.
Both pieces of these cues are solid maple, and these sticks provide a good bit of the feel one would expect from these materials. The partially veneered shaft glides smoothly on the forehand. Players looking for a more traditional design should keep to the linen-wrapped models, which are otherwise identical to the ergonomically gripped cues.
Disadvantages
Quality control is not the best on these cues. The shafts are not always arrow-straight, though they are certainly playable. The ergonomic grips are a love-it-or-leave-it option. Some players swear by them, but others complain of slipping. The real compromise is in hand placement, which is necessarily incremental. Better players may struggle to get into a comfortable position.
If you are unsure of how to shape a leather cue tip, you may struggle to get an AB Earth stick to function properly. These tips are hard, and they will miscue if left as they are at purchase. Beginners should consider swapping out the tip for a softer one, which will vastly improve the playability of the cue. There is also no collar on the cue, and the joint is wood-on-wood, which means the cue will lack feel.
Verdict
The AB Earth ergonomic cue is an original, and it will certainly garner attention when used in a pool hall. New players who are looking for a first cue could do much worse, but better players will not likely appreciate the novelty of the design. As a backup cue or an occasional-use stick, it is better than most. These cues will fit right in for most home game rooms, and anyone looking to provide guests with interesting options should consider adding one to their collection.

If you are looking to stock your home game room's cue rack, or perhaps are a bar owner wanting to provide your customers with a better-quality house cue, these Iszy cues will likely appeal to you. The
Canadian maple cues are certainly an improvement over the typical one-piece house cue, but are they worth the added investment? Let's see.
Two-piece, all maple construction
Steel joint and collar
Irish linen wraps
One each of 18-, 19-, 20-, and 21-ounce weights
Glue-on leather tips
Advantages
These Iszy cues offer the home player a one-stop option for stocking their cue rack. They look the part, with inlay-styled decals that are far less garish than many other cues in this price range. Tightly wound Irish linen wraps help with grip, and steel joints aid with a good feel on finesse shots. The leather tips are shapeable, though they are hard.
There are several combinations of colors available, but each grouping is otherwise identical. Two-piece construction with steel collars and rings mean these cues provide good energy transfer, and missing is the doink sound that is too common in cues in this price range.
Disadvantages
The Iszy brand is not known for impeccable quality control, and these cues are no exception. If they are the only cues available, the one or two that are straightest will likely see much more use than the one or two that have slightly warped shafts. This won't be an issue when it comes to weight, as they are two-piece cues, but the shafts will wear down eventually from the use.
Another issue is with longevity, especially in a bar or when children will be using these cues. When well-cared for, these sticks will stay useable for a long time. They cannot, however, survive much abuse. The tips, which require shaping, are hard. Miscues are to be expected if new players are using them, and hard breaking may jar them loose from the ferrule. Balance is also problematic, as the weight is decidedly rear-biased.
Verdict
Visitors to your game room will surely appreciate the quality of your house cues, but skilled players will not be fooled into thinking you have provided them with top-quality choices. Still, as house cues go, these Iszy sticks are a great option. They will need their tips shaped, and your guests will have to be told to use a breaking cue, but otherwise they are great-playing sticks.

With 60-plus years of experience in the business, Valley-Dynamo knows a thing or two about making quality cues. The name will be instantly recognizable to anyone who learned the game in bars or pool halls.
 are synonymous with pool sticks, but are they the right option for your home game room? Let's see what they have to offer.
The classic house cue
Maple shafts with grafted hardwood (maple) butt
Fiberglass ferrules with leather tips
Available in lots of 4 or 8 sticks
Advantages
Valley has been making house cues for generations, and it has obviously learned how to make a tough cue stick in that time. These cues are designed to survive the abuse that comes from daily, almost constant use. One-piece construction means their feel in innate, and the leather tips are solidly glued in place on the tough, fiberglass ferrules.
Straightness is a prerequisite for any cue leaving the Valley factory. The company sells its warped mistakes at vastly discounted prices, and quality control is as one would expect from this American-owned company based in Texas. Many of the game's greats cut their teeth on Valley cues, and they make a nice addition to any game room or bar.
Disadvantages
The most obvious issue with these cues is their lack of portability, owing to their one-piece construction. Of course, house cues are, by definition, not meant to be carried around. Still, not being able to break them down will be a detraction for some users. They also lack any adornments to keep them from looking plain-Jane.
The included tips are also rather hard, and beginning players will likely struggle with miscues. This is an easy enough issue to fix with a simple tip replacement, though. You may as well invest in those replacement tips at the time of purchase, as the glue that holds the stock tips on tends to fail under heavy use.
Verdict
When the average player thinks of a house cue, the Valley stick is the one that comes to mind. These cues are well-balanced, and the use of premium maple helps them deliver superior feel on touch shots. They are capable of producing all the English of much more expensive cue sticks, and keeping them in your rack means you will not need to purchase separate breaking cues. They are a wise investment for any bar or game room owner.

Players makes affordable cues for pool players on a budget, but you wouldn't know it from the looks and playability of its products. The
 with Triple Silver Rings Cue is a baseline model from the company, and it still easily outplays the top cues from many other budget-cue makers. Here are some of its finer points.
Beautifully cut bird's eye maple butt
Grade A hard rock maple shaft
Pro taper on shaft improves playability
Irish linen wrap is double-pressed
Lifetime manufacturer's warranty against defects and warping
Stainless steel collar
Advantages
This cue, from Players' traditional lineup, shares many features with some of the company's more expensive models. Players takes the extra care necessary to produce a quality cue stick, such as turning and drying the shafts seven times during curing. This stick comes coated with epoxy to prevent moisture absorption, a UV-blocking sealant to keep it looking new, and a special French wax to facilitate a smooth, stutter-free stroke.
None of that matters if the cue isn't playable, but that is a non-issue. The pro taper on the shaft produces the long stroke that better players prefer. The high-impact ferrule has a lifetime warranty — separate from that of the cue — against cracking or chipping. And the Le Professional Le Pro tip is a popular replacement model among better shooters. It resists mushrooming well, though it is likely too hard for many beginners. Players (the company) also warranties the cue against warping or defects, and that includes both the butt and the shaft.
Disadvantages
For the cost, it is difficult to find a better cue than this Players model. Still, it is a budget cue from a budget-cue company. The materials are nice, and the cue is nicely executed, but its lack of feel will be evident to an experienced pool player. As is often the case with low-end cues, quality control from the factory is touch-and-go. The occasional warped shaft is not unheard of, though Players will replace it if that is the case.
Verdict
When you tire of using house cues, it is only natural to begin searching for your own stick. If that is you, take a good look at this cue. The linen wrap is of nearly the same quality as those on sticks costing many times the price of this cue. Its lack of inlays and other adornments is one of the main reasons for its low cost, but playability is uncompromised.

Lucasi makes quality pool cues for serious players. Over the years, it has garnered a reputation for playability and value, and the
 pool cue with upgraded shaft is one its most popular cues. Sneaky Petes are so named because they are better cues made to resemble house cues, but this stick is all business. Here's what makes it so special.
All hard rock maple construction
Bird's eye maple butt
Unilock pin with wood-to-wood joint
75 mm custom solid core shaft
Tiger Everest leather tip (hard)
Classic sneaky pete design won't draw attention
3/8-inch by 10 pin
Advantages
It may look similar to a house cue, but this Lucasi sneaky pete is a true-to-form players cue. The custom, pro-tapered shaft utilizes low-deflection technology to prevent miscues, and the wood-to-wood joint keeps everything feeling soft. Decoration is minimalist, with only a few imitation mother-of-pearl inlays near the true four-prong graft to give away its actual purpose. From across the pool hall, though, no one will ever know you're using a players' cue.
Lucasi backs its products with a lifetime guarantee against defect or warping. Though, with its hand-selected hardwood and patented Lucasi moisture sealant, warping is rarely an issue on these cues. Better players will appreciate the Everest tip — by Tiger — for its playability and longevity. It is hard enough to resist mushrooming, even on breaks, but it feels more like a medium on the hit. Properly scuffed and chalked, you might even confuse it for a soft tip, until you suck the cue ball back across the table with back English that is.
Disadvantages
The obvious disadvantage of any sneaky pete model is the common misunderstandings they induce. Older players especially may think you are trying to pull a fast one on them. However, the style is quickly becoming more common for regular players, especially those who do not like the pomp and circumstance involved with flashy pool cues.
The only other disadvantage to a Lucasi sneaky pete is its lack of metal rings and a joint collar. Some players prefer the reduction in feedback they get from the wood-on-wood joint, but the muted feel is definitely not for everyone. If you're going straight from using a house cue to this Lucasi, though, you may find that it smooths the transition perfectly.
Verdict
The sneaky pete used to be a hustler's cue, meant to deceive the unsuspecting mark. Those days are long gone now. Sneaky pete cues are gaining in popularity, precisely because they lack the adornments and decorations that many players consider garish. They are more modest cues, used by players who prefer to let their games do the talking.
Lucasi cues are expensive, yet not overly so. And this sneaky pete is one of the most affordable Lucasi sticks you will find. It has all of the playability of the company's more expensive cues, but with a softer feel and exquisite control. If you are on a tight budget, but you refuse to compromise on playability, consider this sneaky pete. Your play will definitely speak louder than your stick.
Conclusion
Of the cues we reviewed here, the best value is easily the
. Few sub-$100 cues look as nice, and even fewer play as well as this Players cue stick. The absolute best cue is just as easily the
. It may not look like a high-end cue, but that's exactly the point. Our pick for anyone on a tight budget who is looking to stock their home cue rack is the
. With metal rings and steel joint collars, their feel surpasses their price tag. And they look the part to dress up your game room.
Other Products Considered
There were a few other products that we considered for this review, but which did not quite make the cut. The
 is affordable, but graphite construction lacks the refined feel of wood. The
 house cues are decent starter sticks, but quality control is more of an issue than for some others.
 is a nice version of that specialty cue, but we see no reason to pay more than the
costs. The
 is imminently playable, but we did not feel it warrants its price tag. And the graphics and rubber grip on the
are just too wild for general consumption.
Best Brands
Lucasi
Lucasi Cues are precision-engineered tools for precision-oriented players. The craftsmen the company employs know their business, and they hand select each piece of hardwood for each individual cue. Lucasi's prices run the gamut, from $1000-plus options to the sub-$250 Sneaky Pete we feature in this review. Each is a masterpiece in its own right, though, and well worth its cost. You get premium materials, and a feel in the shot that is second to none. If you're ready to move up to a new level of play, you could do a lot worse than investing in a Lucasi cue.
Players
Players cues offer exquisite craftsmanship and incredible value, a rare combination in any sporting goods product. The thought that goes into the design of its cues is obvious and legendary, as is their performance. It is one thing to purchase a good-looking stick, but if it doesn't perform on the felt, it isn't worth lugging around. Players cues seldom disappoint. The materials are just as good as those of most high-end brands, as is the playability. The only difference is the price, and no one will ever know how much you saved.
Valhalla (by Viking)
Viking cues got its start in a basement workshop in the 1960s, and slowly built its reputation by word of mouth. Its cues continue that tradition to this day, but the company wanted to provide tools for the common player who cannot always afford its best equipment. Valhalla cues are made overseas, but to the same exacting standards and the company's North American workshop. A Valhalla cue is still an elegant implement; you just wouldn't know it from the price. The quality of the materials and design produces a playable stick with excellent feel. These are cues you can be proud to own.
Valley
Anyone who cut their pool-playing teeth on an 8-foot, coin-operated pool table in a dive bar will be instantly familiar with the Valley name. The company has shown a commitment to replicating quality, one stick after another. A home game room just wouldn't be authentic without at least one Valley cue stick, but a collection of four or eight of them is even better. These cues give your guests options in weighting, while providing them with a familiar tool. There's nothing left to do but rack 'em up and break 'em.
Buying Guide
https://www.youtube.com/watch?v=7kxpD5UzNpU
The pool cue market place is a crowded one, but it also a confusing specter. You can easily dish out $1000 for a cue, yet still not be able to sink a bank shot with it. There are many reasons why one cue stick might cost much more than another, and we'll look at those, but first we need to get familiar with the parts of a cue stick. Not all sticks have all the following pieces, but they are common enough to be noticeable when they are missing.
Parts of a Cue Stick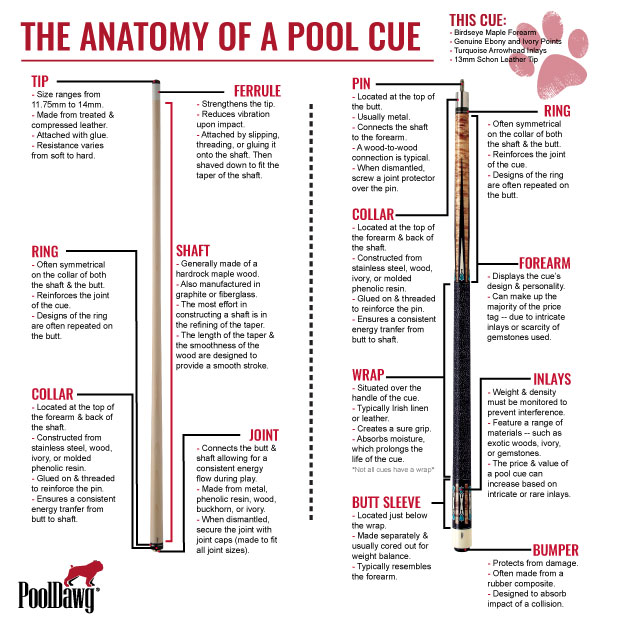 Anatomy of a Pool Cue – Source: PoolDawg Billiards Supplies
The Butt and Its Parts
The fat section of the cue where you place your rear hand is called the butt. It may be one solid piece, or it may be a collection of several pieces all threaded together. Being segmented may make a cue more expensive, but it will not necessarily make it play any better than a house cue.
Pin and Collar
The pin is the threaded rod that joins the butt to the shaft. It is typically made from metal. The collar is the ring that gives the cue a solid connection from butt to shaft. It is normally made of metal, though other materials (resin, wood, etc.) are sometimes used. The craftsmanship and materials in the pin and collar have a profound effect on the energy transfer from the butt to the shaft.
Wrap
The wrap is the part of the cue that the player holds onto, though it is not always present. Typical materials for the wrap include Irish linen and leather, though other materials are sometimes used. Wraps help ensure that players have a sure grip on the butt, which helps prevent them from squeezing the cue too hard. Some manufacturers are experimenting with rubber materials, akin to the grip on a golf club. These rubber wraps may help players who tend to sweat a lot from the palms to keep a comfortable, sure grip.
Forearm and Butt Sleeve
These are the two sections where players can spend – or save – more money than any other parts on the cue. The forearm is the section of the butt between the wrap and the joint, while the butt sleeve is located from the wrap to the butt end of the cue. Both may be inlayed with gem stones or other rare materials, which can add significantly to the cost of the cue. Inlays are precisely weighted so as not to interfere with balance or performance, but they are otherwise unnecessary.
The butt sleeve is typically a separate piece of wood that is permanently joined to the cue. It is cored out to achieve balance and a precise weighting. On the end of the butt sleeve, manufacturers typically include a rubber bumper to protect the cue and provide shock protection when it hits the floor or a wall.
The Shaft and Its Parts
Shaft
The shaft is the business end of the pool cue ­– the part that slides between the fingers of your front hand. It is most often made from hardwood, such as maple, though sometimes manufacturers use synthetic materials like graphite. Shafts taper toward the tip, which may be as small as 12 mm or as large as 14 mm.
Tip
Cue tips are normally made from compressed leather. More experienced players typically prefer medium-to-hard tips, as they impart more force into the cue ball. Beginners should keep to soft tips, which resist miscues but will mushroom much quicker than harder tips. There are tips made from other, harder materials, such as phenolic resin. Those tips, which are often as hard as the balls they are intended to strike, are intended for breaking cues.
Ferrule
The plastic piece that surrounds the tip, the ferrule provides added strength and reduces the vibrations players feel when they strike the cue ball. Ferrules may slip onto the shaft, in which case they will typically require gluing, or they may be threaded in place.
Joint
The joint is the connection point between the butt and the shaft. It most often consists of a ring and a metal, wood or resin collar. The pin on the butt of the cue threads into the shaft, and manufacturers strive for smooth and consistent energy flow from one piece to the other. The quality of the materials of this cue part will determine much of the feel of the stick.
Uses
https://www.youtube.com/watch?v=dtlXB2kt09k
The issue that will help determine the type of cue you need is simply what you intend to do with it. There is no need or call for an expensive player's cue in a family game room, especially if kids are just going to be banging them around. Similarly, a house cue is no tool for a serious player to bring to league night. Let's see if we can help you make your decision.
Bar and Home Game Room
Whether you are a bar owner replenishing your house cue or a home game room owner with an empty cue rack, the house cue is exactly what you need. These cues are inexpensive, though their materials may still be of decent stock. Often, they are one-piece designs, but sometimes they have separate sections. Either way, they do everything the better cues do for most players most of the time. When you're ready for a better cue, you'll know it.
Players' Cues
The more expensive cues on the market earn their price tags through hand-picked wood stock and the inclusion of inlays and exotic materials. Their cost is justified in the feel they deliver to the player, enabling them to impart precise spin on the cue ball and always leave themselves for the follow-up shot. Even the wealthiest game room owner should eschew these cues for anyone but trusted guests. It is a shame when unskilled players or children damage these precision-engineered tools.
Specialty Uses
Besides regular play, there a few specialty cues that no pool hall or game room should be without. The shorty cue, for example, allows players to get off a shot even when crowded from behind. Similarly, a bridge cue enables players to hold the shaft steady when the shot would otherwise require them to lean far over the table. Breaking cues, with their heavy weight and ultra-hard tips, can take repeated hard hits and always be ready for more. When stocking your game room, be sure to include these sticks in your budget to keep things rolling smoothly.
If reading this guide hasn't made you excited enough yet to go out and start putting stick to ball, maybe this guy will!
https://www.youtube.com/watch?v=H7B1NhceHEg
Last updated on August 19, 2018