This post may contain affiliate links — Please read our affiliate disclosure.
Last updated on November 4, 2021
The best strategy board games are pound-for-pound the most fun and enjoyment you can get out of a week at home with the whole family for the holidays. Family and/or friends are not included in the box, so you do need to find some of your own! That being said, let's review 15 strategy board games that are amazingly fun to play.
If you're in a hurry, our quick recommendation is
– it's a great game that is engaging, challenging, and fun for all due to its cooperative nature.
The Different Types of Strategy Games
Board game genres aren't as simple as they were decades ago. In fact, there are a plethora of types of board games, and we want to touch base on some of them here. One of our favorites comes first:
Deck-building games: A deck-building game is where your primary focus as a player is to gather cards throughout the game to build a deck that works with the objective. For example,
is a deck-building game where you buy cards each turn with "buy" points. The cards that you buy will come from the HQ or from the city. As your deck grows stronger, you must defeat the primary villain before they defeat you. Another example is Dominion. You may notice that deck-building games are very similar to collectible card games.
War and military games: The strategy genre wouldn't be complete without a war or military type of theme. Whether you're playing
,
, or
, strong military themes go hand in hand with the word "strategy". Defeat your opponent's using military tactics and dominate land or armies with ease.
Resource/Economic management games: Another popular type of strategy genre is the resource/economic management genre. These types of games urge the player to use resources that are limited, and work their way through the game by producing more of their resources. In doing so, they'll be able to achieve their goals or get stomped by their opponents.
Finally, if you're shopping for kids and looking for something a bit simpler, have a look at our rundown here.
Best Strategy Board Games Overview
Best Strategy Board Games
Terra Mystica Board Game
Players: 2-5 Players
Playing Time: 90 Minutes
Recommended Age: 14+
Fun:

Lowest Price:
and personally one of my favorites. After you get over the initial hump of learning the quite complex gameplay, you will get hours of enjoyment out of this game. It's designed to be infinitely replayable. There are 14 races that each have different strengths and downsides. Combine that with the different bonus tiles and different yearly bonuses that change your objectives every game and you get absurd amounts of variability. All this combined with the fact that it's a 2 to 5 player game, means that you'll probably never play the same game twice.
That being said, this game's interconnected gameplay, both for the player and between players makes developing the right strategy a very engaging endeavor. If you are a competitive player that loves to tinker and master new challenges, you will not be able to just play this game once.
This is, however, not a game you just start up and play — it's rule-heavy and doesn't really have a theme that would engage and satisfy the imaginative role-player. It took me about 20 minutes to explain the mechanics to my family and it didn't really engage them as much as it did me and my grandfather… The "fixer" type of player will get way more than the casual. Think of this as a colorful form of 7-dimensional backgammon. Amazing for those that like to duel with their minds, but a little abstract and complicated for those that don't get a feel for it.
Risk: Global Domination
Players: 2-5 players
Playing Time: 120 minutes
Recommended Age: 12+
Fun:

Lowest Price:
The second game on my list is a classic game.
is, in my opinion, the best strategy board game on this list and a classic. The game is basically about territorial conquest. You move a continuous supply of soldiers from your base across the map. Battles are won by a mix of troops and a dice roll. The stochastic element is just enough that gives new players a chance but allows strategic play to dominate and be the preferred approach to combat.
Global domination is the version I have and tested over my winter break. It's easy to learn and easy to master making it a great equalizer between the more experienced role player and the new player. As an added bonus it makes geopolitics more fun and can serve as a fun teaching tool for kids. If you are the type of uncle/grandpa/cousin that likes to teach kids, Risk is a strategy board game to do that in a fun and entertaining way.
If you like this style of play but have something against Risk, check out this list of similar games.
Twilight Struggle Board Game
Players: 2 players
Playing Time: 180 minutes
Recommended Age: 5+
Fun:

Lowest Price:
This is
. Rules are straightforward and you get immediate immersion for anyone even remotely familiar with the concept of the Cold War. And that's for the amateur, for the history buff, it's like Christmas for your brain. The amount of depth and historical accuracy they included in such an easy and fun game is amazing. It rewards strategy but also improvisation. Because the action point/event duality of the cards you play forces you to anticipate the costs of your actions effectively putting you and your opponent in a real life "prisoners dilemma" just like the real life US and USSR. That reactionary type of gameplay means that besides pursuing your own strategy you always feel like you're losing on other fronts and you'll always play catch up. This gets amplified however when you have players of different experience levels because a player that played the game before and knows the event cards, will know how to differentiate between a bump on their way to victory and a mistake you will have a hard time recovering from.
Monopoly: The Classic Edition
Players: 2-8 players
Playing Time: 75 minutes
Recommended Age: 10+
Fun:

Lowest Price:
The gameplay is a classic, you go around the board, and you trigger events. Some good, some bad. And over the course of the game, you can buy spaces and invest in them to cause the players that land on those spaces increasingly higher financial cost. Players play until there is only one solvent player left.
But besides that, where
truly shines is the playing experience. The fact that a player's challenges are directly caused by his opponent's skill and decisions makes it very competitive and engages you in a very raw way. It's really a unique experience; that may be close to the engagement achieved by Pandemic, but with less of a time constraint. The challenging and stochastic nature of the game also make clawing back into the game immensely satisfying, something newer, easier games never allow you the opportunity to feel.
Now, the gameplay may be a bit stale, and you might be tempted to get a more themed set, but I personally feel like the mechanics create a massive dissonance when playing on a very colorful board. So that's why the Monopoly is a no brainer to get in my point of view.
War of The Rings Board Game
Players: 2-4 players
Playing Time: 90 minutes
Recommended Age: 12+
Fun:

Lowest Price:
If you are a Tolkien fan,
. It's the novel in interactive form, it's that good. Middle-earth does not get better than this. If you are not, however, I would get your family or friends to marathon trough the movies beforehand and get into the mood at least. And that's just the least you should do. Because this game asks a lot from the player. It's big, it's rule heavy and all that is counterbalanced by just how amazing this game is once you get everything set up and you actually start. This is player-generated narrative and asymmetrical gameplay at it's best. Each side has different ways of winning conditions and has different resources and different degrees of freedom.
In short, the Freemen, play a game of character and manpower management and resistance over the overwhelming forces of the Shadow, while the Shadow is playing a fast conquest game, distracted by the alluring powers of the ring. The same ring that gives the Freemen a much-needed bonus in term against the Shadows hunting raids, but opens them up massively to being vulnerable to the Shadow finding the ring and winning if they use it too much. And if this sounds familiar it should, because I am not explaining the movies here, this is the board game's mechanics, it's that good. It enters your brain and through gameplay, makes you think and behave like the characters in the books and movies. This game is a fan-favorite and can easily be compared to some of the best strategy board games in terms of fun.
Tigris and Euphrates Board Game
Players: 2-5 players
Playing Time: 120 minutes
Recommended Age: 13+
Fun:

Lowest Price:
Massive RPGs are not for everybody, although everybody should experience one of those massive campaigns at least once in their lifetime. So for regular humans with civilian levels of concentration, there is
. This is probably the most played game at my parent's house over Thanksgiving. It's easy to set up and even the novice table-top player will start seeing and strategizing after a few short games. The immersion is not great, the theme is abstract but due to the ever changing map and best of weakest resource winning system it's never boring.
Almost every game has this player behavior based meta-narrative that evolves and mutates at least a couple of times over the duration of just one game. The mechanics are somewhat unintuitive, but as soon as new players learn to improvise and use the map, they'll be hitting aggressive plays that at the very least will shake up the play and ruffle some strategies, even for advanced players.
This ability to disturb other players also makes this game ideal for some meta-mind games between the players if you want to have some fun: you can bluff, rush the game, sabotage other players and collaborate. Some won't appreciate this type of double dealing, but if it's all in good fun with advanced players, it just enables you to add a whole new dimension to the game mechanics.
7 Wonders Board Game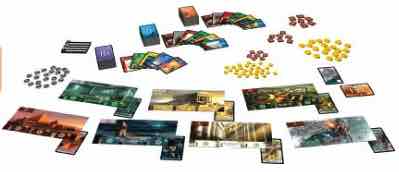 Players: 3-7 players
Playing Time: 30 minutes
Recommended Age: 10+
Fun:

Lowest Price:
Another "pickup and play" game is
. It's a card game that can be played by 3-7 players. Its main advantage is the multiple ways to score points and the speed of a game. But unlike other more themed games, it lacks immersion and I would score it as tridimensional blackjack, or 7-dimensional blackjack because of the varied ways to score points. A big plus is that it's easy to get involved and to pick up by observers who usually are horrified by the complexity of other table top games. This is, in fact, the only game I got my grandmother to play while on hiatus from cooking in the kitchen. But, there is one major downside. Because you score points in so many different ways, finding out who the winner is will require some math, so you may need to outsource that to your nerdy cousin.
7 Wonders Duel Board Game
Players: 2 players
Playing Time: 45 minutes
Recommended Age: 10+
Fun:

Lowest Price:
Despite the name, this is not an expansion pack or a sequel for 7 Wonders. It's
, made for 2 players. The core mechanics are still there, but the pacing and resource management get shifted up a couple of gears and this feels like a completely different experience. The rounds pass by super fast and because you only need to play against 1 opponent, decisions are easier to make. This is better than the original game in my view, it keeps the base games accessibility, the setup is a bit more work, but still superfluous compared to other table top games and the added speed and turn-around make it a lot more engaging than the original.
This is a great equalizer of experience and I would say that a tournament of head-to-head duels is more engaging for the whole group and more fun than the team game. Also, nobody is stopping you from making this a team game and playing co-op with a partner on couples nights.
Stratego Board Game
Players: 2 players
Playing Time: 30 minutes
Recommended Age: 8+
Fun:

Lowest Price:
No strategy board game line-up would be complete without this famous and infamous
game. It looks like a next generation chess game. This is a mixed bag, you either love it or you don't. It's easy to pick up and people that love it, really love it and find depth and nuance in it.
I am not one of those people and I will try to keep my feelings for this game to myself. Its main strength is that it is very easy to pick up. And will get most people playing within minutes. I can see why other abstract games like backgammon or chess got popular over the centuries. With its limited game mechanics, you have plenty of strategic freedom when it comes to positioning and might even enjoy experimenting with different strategies even if you aren't the board game type. And, my policy is whatever works. If your family is more adverse to role playing this is definitely better than spending the holidays watching TV "as a family".
Pandemic Board Game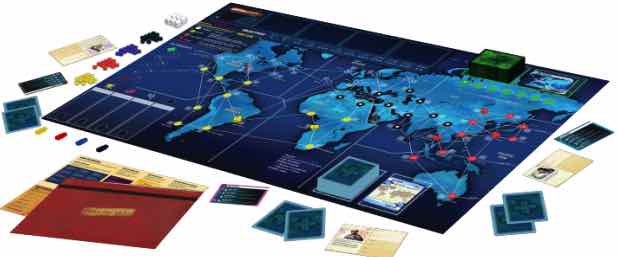 Players: 2-4 players
Playing Time: 60 minutes
Recommended Age: 13+
Fun:

Lowest Price:
This was
, probably my first co-op experience and definitely the best introduction to the potential of board games as a roleplaying experience. This is easy to learn and play, but captivating and almost infectious, if you pardon the pun. The tension is palpable even from the very first session.
Most games end up with the players standing to wait for that deadly draw or scrambling and planning together one last push towards victory. A victory that is very hard to get, but absurdly satisfying when you get it, especially at higher levels when you play with very experienced players. And because it's a co-op game, the game rewards newbies and pros within the same team.
If you only get one game out of this lineup, make it this one — this is concentrated fun, with a low barrier of entry and as long as you don't mind getting your ass handed to you by a game, this is an amazing starting point for anyone that isn't familiar with table top games. The action is fast paced and the theme is very accessible for almost anyone, who doesn't want to cure diseases and save the world?
Forbidden Island Board Game
Players: 2-4 players
Playing Time: 30 minutes
Recommended Age: 10+
Fun:

Lowest Price:
From the same creator as Pandemic, we get
. The mechanics are similar and transitioning from one game to another is easy. Those same mechanics make this game almost as good as Pandemic. It's co-op, which means experienced players and new players can both enjoy the same game side-by-side. The stakes are not as grave and Forbidden Island isn't as punishing as Pandemic, although you still get the spiraling out of control feeling towards the end of the game.
This has an even lower barrier of entry if that were possible. But that comes with less immersion. This is one the best strategy board game for children. In my opinion, adults should stick to Pandemic and get punished and rewarded by the more restrictive mechanics (larger tileset).
Speaking of children, this is the easiest way to get your kids into tabletop games, and I guess that is quite an experience when you get to see their joy when you barely escape an evacuation from the island in that last moment. So in some ways, forbidden Island might be a better playing experience than Pandemic if you're playing with your kids.
Splendor Board Game
Players: 2-4 players
Playing Time: 30 minutes
Recommended Age: 10+
Fun:

Lowest Price:
This one is
, it's ideal for the overthinking table top gamer because it's surprisingly simple, but a bored mind will build up some really crazy strategies very fast. The turn around is very fast at 30 minutes a game. Despite having a slow start the gameplay picks up speed very fast. The paying experience is also very different if you play with 4 or only 2 players. In the 2 player version, the simple mechanics make playing the opponent a great meta-goal. That makes this game amazing fun despite the simple mechanics.
This is the best college dorm/girl sleepover game if you know what I mean. It's silly, non-combative theme make is easy to pick-up, fun game, that's accessible to anyone. It's very rare that an experienced player gets to dominate another because the chance factor is quite high which also means that less experienced players can snag up some nice combos that in the later stages of the game can create an upset. For ease of playability, this is a great choice, especially for an engaging couples game night with the neighbors or the work colleagues of your wife. Think of it like a much more interesting Bejeweled.
Blokus Board Game
Players: 2-4 players
Playing Time: 45 minutes
Recommended Age: 5+
Fun:

Lowest Price:
Not going to lie, the
, looks like a children's game, but it's actually really hard and if you're competitive you can make this a real thinking man's game. Usually, the turn-around is about 12 minutes and is probably the most accessible game for very young children on this list. But I found it challenging even just mock playing it by myself. It's definitely the only game that you can do after you had a couple of beers. The concept of getting all the pieces on the board is deceptively easy at first, but after the first 4 minutes you start to see the mistakes you've made and you're struggling to claw back and hope you're opponent makes a mistake as well. On the downside, there's probably is an "optimal strategy", which means it lacks replay ability eventually. But I haven't found it yet and really enjoyed this quick and simple game.
Tokaido Board Game
Players: 2-5 players
Playing Time: 45 minutes
Recommended Age: 8+
Fun:

Lowest Price:
Have you ever wanted to play a round of Monopoly that ends before you finish college? Have you ever wanted to play a game of Monopoly with a more Zen theme, but much more passive-aggressive handicapping of your opponents? How about playing
like Sesshū Tōyō (seriously Google him, his works are amazing)?
Well, Tokaido is all that and more. The rules are simple and the strategy is basic: it's a point collecting game. But it offers some interesting experiences with a very basic and simple model. I am not kidding when I say that, it takes some very smart game design to get 4, only mildly, inebriated adult men, to argue with one another over who gets to go shopping first. Tears might have been shed, friendships put on hold and maybe someone was disowned, but this game made it all worth it.
Don't get me wrong, the game is really basic, anyone watching one round from the sidelines can instantly jump on it and compete. But it's not about the gameplay, it's about the plays. It's about how you decide to help the "enemy" of your "enemy" or block your closest competitor. As game mechanics go, there not really much in the way of an upset, it's hard to catch up and you don't need to change up strategies from the early game into the late game. But, none of that matters, because it's not designed to be about skills, strategy or experience, it's about trolling your opponents and enjoying every minute of it.
This game very much reminds me of Nintendo multiplayer or some old card games. You didn't play the game, you played the other players…and that's an amazing thing about most table top games, Tokaido especially. It adds a lot of human personality in the gameplay, and that resonates instinctually with us much more than any prepackaged media we could consume passively.
Settlers of Catan
Players: 3-4 players
Playing Time: 60 minutes
Recommended Age: 10 years and up
Fun:

Lowest Price:
Have you ever wanted a board game that became a part of something bigger than itself? Maybe you've been wanting to find that special board game where you can play over and over without getting the same experience twice. Hailing from Catan Studios, there are world championships based around this very game, and an entire studio dedicated t other very universe that lives inside outside
. The basics of the game include trading your resources to climb your way up success' ladder. If you love resource management types of board games, then Settlers of Catan is definitely something you'll be interested in, as you'll produce resources as best as you can, trade them, and then learn to build a civilization with said resources. In short, the first to 10 victory points is declared winner over the settlers, as they've managed to produce and duplicate their resources enough to build a successful settlement.
If you don't like resource management games, and find them a bit too in-depth for your liking, this may not be the board game for you. Are you someone who wants a quick board game that's pretty repetitive? Settlers of Catan may not exactly what you're looking for. Resource management (also known as economic management) use the world of finances and corporation within an ancient theme to infuse modern day with times far before what our history books have covered.
While the game is addicting, and quick for something to this level of strategy, those who want something more relaxed will want to try something else for casual game night; however, there hasn't been a time that wasn't fun when this game was introduced to the table! Settlers of Catan is easy to pick up, and is a fantastic game to introduce to someone who has never played a resource management game before. If you do love it, here are some similar games to check out too.
The Final Verdict
There are a ton of games we've mentioned, and the amount may overwhelm you, but if you're looking for the quickest game you can indulge in and have fun with, we highly recommend
. Maybe you're looking for something that has a bit of replayability, and we totally understand. There are far too many games that become redundant after one or two play-throughs, but luckily, games like
and
are two that you can definitely have a marathon of game time with. While Pandemic can have a bit of a nail-biting ending, the push for victory is always rewarding.
How to Choose the Best Strategy Board Game
In that context choosing a slower paced form of entertainment is quite a change. But be patient, because, at the end of one of these interactive epics, you will find yourself reconnected with a side of your humanity that most of us forgot they even have in a media passive consumption zeitgeist.  And for younger players, they may actually discover a completely new way to enjoy their free time.
Now, I won't be looking only at the game itself, but rather on the experience of playing them and yes, I call them experiences, because of their interactive nature. It does not allow you to just passively sit by and be entertained. You need to act and experience them. Strategy board game experiences can vary in regards to theme complexity, to gameplay complexity and player freedom.
It's a difficult balance to strike between all 3 and still be accessible to new players. The more complex, the more engaged the players can be once they get accustomed to the rules and the more engaged you are, usually the more you get out of the experience. It draws you in like a good book or movie, but with the added benefit of being a social experience and the other character is a person you know and love, which makes it even better than a movie or book where you are just an observer and you need to learn the characters in that world. But the more complex and rule heavy a game is the harder it is to get to the level at which you can enjoy it.
Top Strategy Board Game Brands
While there are many companies that have tried their hand at creating strategy masterpieces, only few have succeeded. Let's take a look at some of the more notable brands that have used strategy to come out on top, just like in their board games:
Z-Man Games: The creator of Pandemic is known for their intense strategy games with various themes from medieval, to ancient and magical. Beyond Pandemic, Z-Man Games have also published
, Bastion the board game, and many more. In fact, Z-Man games have also created another on this list: Forbidden Island, which features very similar mechanics. If you've played Pandemic and loved it, you just may like Forbidden Island, too! If you're playing with your kids and want to get them into the world of tabletop gaming, you should most definitely introduce them to Forbidden Island before you dive into pandemic.
Catan Studios: From the creators of
and all things in the Catan Universe, Catan Studios has risen as one of the top strategy board game brands. Not only are they still kicking, but the franchise has also developed their own World Championships! They also have individual country championships for the UK, Canada, and the United States. Self-proclaimed the "world's preeminent analog game brand", Catan Studios is at the forefront of enduring, value-based strategy board games. Beyond all of this, they've brought out the big guns in what they call, "the Big Game" where they provide a large collective experience to a large group of players.
Fantasy Flight: From the creators of the elaborate strategy game
, based off of the video game of the same name, Fantasy Flight has also dove into the world of other types of games, as well. You may have seen some of their games like Netrunner (a type of LCG), and universes such as the Legend of the Five rings universe,
, and more. Another very popular strategy game of theirs would be
– an incredible journey of galactic conquest that has brought joy to many people around the world.
Alderac Entertainment Group: Also known as AEG, Alderac was the original creator of the Legends of the Five Rings world. Legends of the Five Rings is actually a CCG (collectible card game), as we mentioned, which is very similar to a deck-building game. After they sold Legends of the Five Rings to Fantasy Flight, they began to manufacture other popular games like
, and more. You may have seen other games from them like Myth: Pantheons,
, The Tempest Series of Games, and more. They also have their own set of deck-building games like
,
, and
.
Paizo: In addition to creating the famous
RPG system, Paizo also created the whimsical board game
, which is a type of strategy game that's the exact opposite of Clue. Beyond this, they made a sequel game called
, which is based on Titanic. Even though you don't like Doctor Lucky in the game, your primary objective is to save him. If you've heard of the
world, then you've already played one of their masterpieces.