This post may contain affiliate links — Please read our affiliate disclosure.
Last updated on November 19, 2021
Darts is a very old game whose popularity has never showed signs of slowing down. Just think about it — just like me, you've probably had it at one point (or still do) in your home. You can find dart boards at your closest bars, taverns, and basically just about anywhere. It's one of my favorite sports and a hobby to millions of people around the world. If you're looking for brand new darts set to replace the old ones or you're getting your first set ever, this post will help you figure out what to look for when deciding.
If you need to educate yourself first before looking at products, take a look lower on the page at the buying guide.
My best pick overall are the
— they'll give you more durability than a cheaper dart but are a little more affordable because they're only 80% tungsten. But if you want the absolute best, then read on for my further recommendations.
Comparison of the Top Darts Sets

Image
Top Pick
Product
Viper Bully 80% Tungsten Steel Tip Darts with...
Target Darts - Phil Taylor Power 9Five Generation...
Wolftop 15 Pack Steel Tip Darts 18 Grams,...
Viper by GLD Products unisex adult Contoured...
Darts By All In Gear King Cobra Strikes 3 Dart Set...
Top Pick
Image
Product
Viper Bully 80% Tungsten Steel Tip Darts with...
Image
Product
Target Darts - Phil Taylor Power 9Five Generation...
Image
Product
Wolftop 15 Pack Steel Tip Darts 18 Grams,...
Image
Product
Viper by GLD Products unisex adult Contoured...
Image
Product
Darts By All In Gear King Cobra Strikes 3 Dart Set...
Best Steel Tip Darts
Sametop 12 Packs Steel Tip Darts
Quality: 

Price:

Lowest Price:
First up on our list we have a well-balanced
brought to you by Sametop. Designed for use on cork boards, this steel tipped dart can be used by beginners and pros alike. Here's what this company is bringing to the table, or rather, the board.
Made with aluminum.
Brass plated steel barrels for balance.
Preventative measures to avoid loosening of tip.
Cheap steel tip darts
Poly pro dart flights.
18 grams.
When it comes to competing in the game of darts, balance and security make all the difference. The darts come with a brass plated steel barrel to balance the dart and heavy knurling for a better grip. Attached to the shaft is a rubber O-ring to help prevent the tip from becoming loose around the barrel. The poly pro dart flights are specifically designed with speed in mind and reduce wind resistance when thrown. Finally, they are a very light; eighteen grams will make for some very straight throws.
The Advantages of the Product
The primary advantage Sametop Steel Tip Darts bring to the game is the brass-plated barrels the darts come with. They have heavy knurling, which makes them easier to grip while also adding a little style to the dart as well. The barrels also help by balancing out the dart for straight, easy throwing. The O-ring prevents the tip from coming loose after multiple throws or long periods of use. Finally, the flights on the end (each featuring a country's flag, a nice touch) are designed to reduce resistance when thrown and diminish the drag. Oh, and the price is certainly an advantage too.
The Disadvantages of the Product
The only disadvantage with these darts is that the aluminum with which they are made is not the most durable material for a dart, as the oils from your hands will affect the metal over time. It is also more susceptible to being damaged by other darts. However, since aluminum is a cheaper material to use you will see this reflected in the price. If you are a beginner and don't want to spend a lot of money on your first set of darts this is the perfect starter set for you.
Phil Taylor Power 9Five Generation 2 Steel Tip Darts
Quality: 

Price Range:

Lowest Price:
Coming up in our second place slot for steel tipped darts is this
, brought to you by Target Darts.
90% tungsten.
Quattro grip made with titanium nitrate.
Best steel tip darts on the market
With the name Phil Taylor (if you don't know, you should) attached to this dart you know it has some serious capabilities. Apart from the purely aesthetic design, these darts are ninety percent tungsten for a high-quality product with durability. The grip is made using the signature Target Darts Quattro grip style that uses four equally spaced holes toward the end of the titanium barrel to increase the ease with which the dart can be held and thrown.
The Advantages of the Product
The biggest advantage of using this product is the high-quality materials used to fashion it as well as the beautiful design. Target definitely lives up to their motto of being "engineered to win." This coupled with the Quattro grip makes for a prized set of darts. The Quattro grip is well-designed and the milled ridges at the end of the barrel allow for a very comfortable hold. Your game might improve overnight with these lovely high-quality darts. The titanium nitride barrel makes for a highly durable dart with dependable accuracy due to its resistance to warping or damage. This dart is also perfectly rear-weighted, which is ideal for people who like to hold the dart toward the back or the barrel. This is also where the four equally spaced grooves are located, making it all that much easier to grip the dart there.
The Disadvantages of the Product
The only real drawback this set has to offer is price, though it's unreasonable to expect much lower at this level of quality. If you want the best materials and the most functional designs, you are going to have to pay for it. And honestly, the price tag is a small charge for being the best. Another disadvantage you might face is if you buy this set but you prefer to hold your darts toward the front. Not only do you want a set of darts that are weighted in the front if this is the most comfortable position for you to hold it, but the holding grooves on the back might make holding it up front uncomfortable, or worse, inaccurate. Make sure you know your preferred style for holding before investing in these darts and you should be fine.
Viper Bully 80% Tungsten Steel Tip Dart
Quality: 

Price Range:

Lowest Price:
Here we have another Viper, only this time they are stepping it up a notch in quality with the
. See the section below to see how the contender in our number two soft tip spot compares to the competition.
80% tungsten.
Nickel barrel with heavy knurling.
Aluminum shaft.
Included extra shafts.
Comes with case.
The Viper Bully Steel Tip Dart comes with a lot of additional features and is made up of eighty percent tungsten, which is the most popular material for dart league throwers. The nickel barrel features heavy knurling, which means it boasts deep grooves in the metal for a sturdy grip. The ridges on the grip also help with consistent hand placement, which promotes accuracy. It also comes with some extra shafts and a case to prolong the life of your darts by keeping them safely contained.
The Advantages of the Product
The great advantage that this tungsten steel tip dart by Viper brings to the table is that tungsten is highly resistant to wear while also allowing for a slimmer shaft. This means that you can achieve lightweight balance without having to sacrifice durability. This material is also more resistant to the oils on your hands than brass or nickel; they also maintain resistance in the event that they make contact with other darts (which over time is likely). This set also comes with some extra features, which will help prolong the use of your darts by keeping them in good condition. Apart from adding a few extra darts to the mix, Viper has included a case with this set, which will help you keep your darts from getting damaged.
The Disadvantages of the Product
Due to the high amount of tungsten in the dart the price is going to reflect that. This is also directly related to the quality of the dart as well, so whether or not this is a deal breaker will ultimately be left up to you. However, these darts only have eighty percent tungsten so that they won't be as expensive as other options.
Winmau Sabotage 90% Tungsten Alloy Professional
Quality: 

Price Range:

Lowest Price:
And, last but hardly least for our list of steel tipped darts we have an entry by a highly recognizable name,
. For a more in depth look at the benefits continue reading the section below.
90% tungsten.
Made with aluminum.
Thicker flights.
If you are having trouble with your groupings you may want to try these Winmau Steel Tip Professional grade darts. They are made with ninety percent tungsten, which greatly improves the quality of the dart due to its high resistance to wear from natural oils to general use. Whether you've recently started playing the game or you simply want to improve don't let the name fool you, these darts are great for professionals and beginners alike.
The Advantages of the Product
The real advantage these bad boys bring to the table is the high level of tungsten they are made out of. Rocking a ninety percent for this durable and highly corrosion resistant material you can rest assure that these darts will last through many games with minimal tarnishing. The tungsten allows for a sturdy shaft and narrow barrel so the overall dart is fairly lightweight and slender, which minimizes drag caused by cumbersome designs.
The Disadvantages of the Product
The only disadvantage this product might have is that the narrow barrel and light knurling might make it difficult to consistently grip the dart in the same place every time. The grip is thin and cylindrical, meaning it could prove troublesome to find the exact placement for your hold to increase accuracy. Though, if what you want is a thin dart that can fly straight with as little wind resistance as possible, then this might just be the tradeoff you were looking for. At the end of the day, it will always come down to personal preference and what works best for your technique.
Best Soft Tip Darts
Viper Sure Grip Soft Tip Darts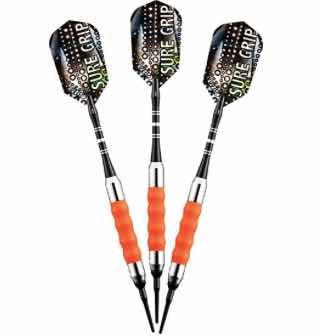 Quality:

Price Range:

Lowest Price:
First up on our list for the soft tipped darts we have another familiar brand with the
. These are great for beginners to use and learn without having to shell out the big bucks in order to do so. Let's take a closer look at what this dart can do to improve your game.
Silver plated nickel barrels.
Rubber grip for secure hold.
Aluminum shaft.
Narrow profile.
Designed for use with electronic dartboards.
These soft tip darts by Viper are a great beginner's set, with silver plated nickel barrels to help keep them balanced and comfortable rubber grips for a secure hold without being too hard on your fingers. The dart is designed with a narrow profile and made with an aluminum shaft to keep the dart lightweight and straight. This type of soft tipped dart is modeled for use with electronic dart boards and are safe enough for the whole family to enjoy, including kids of all ages.
The Advantages of the Product
The greatest advantage to using these darts is the soft rubber grip, which helps keep your hand in place for straight throws every time. It also helps you with the consistency of your throws due to the ridges, which indicate exactly where your fingers should be on the grip. This allows you to place your grip in the same place throw after throw which will help improve your consistency and over time your accuracy.
Additionally, these darts are equally weighted so you can hold it toward the front or the back in order to determine where on the dart your natural grip falls. Again, this is ideal for beginner's who may naturally want to hold the dart like they would a pencil, but should actually be learning with a different hold technique. Since the darts weight is equally distributed throughout the entirety of the shaft you can choose where to hold it without throwing off the weight. And finally, another great benefit to buying these darts is how easily the soft tip can be replaced if it gets bent, something that becomes a bit more troublesome for their steel tipped counterparts.
The Disadvantages of the Product
The only disadvantage to this dart set is that it is not as durable as other sets. The material used is relatively low cost and prone to wear. Nickel is a very soft metal and is easily dented or bent which can result in your darts not flying as straight as they should or slowly becoming less reliable over time. Along with being a soft metal nickel is also prone to corrosion and rust that will affect the condition of your dart set over time as well as the performance reliability.
However, all this aside the Viper Sure Grip Soft Tip Dart is still an ideal purchase for a beginner due to their low cost, comfortable grip, and evenly distributed weight, which makes it easier to experiment with grip placement. And even though this set won't last forever, it will last long enough for you to improve your game and play around with your grip. So by the time you start learning how you prefer to throw, it will likely be time for an upgrade anyway.
Viper Sinister 95% Tungsten Soft Tip Darts
Quality:

Price Range:

Lowest Price:
Manufactured by Viper by FLD Products,
 are inexpensive while providing exceptional play. Features of the aforementioned include the following:
Designed with tungsten slim barrels for tighter shots, 95/5
Smooth and sleek barrel for excellent gripping points
Easier to control and maintain consistency
Increased speed, reduced drag, consistent flight path
There are a few styles available for these Sinister darts, some of which include a contoured barrel, teardrop barrel, and a beveled barrel for those that want extra control. Speaking of control, these darts are designed to specifically reduce the drag and increase the speed for more consistency in your shots. The barrels provided are fantastic as gripping points, and the tungsten slim barrels ensure tighter shots as you make your mark on the board.
The Advantages of the Product
We love the various designs of this product, allowing for better control while gripping. The barrel options for the price allow you to have more of a say in the product you're investing in. Tired of your same old playstyle? Check out one of the other barrels offered and dive into the world of changing up your game. This product also comes with a dart mechanic tool, heavy duty micron thick high-speed flights, tufflex tips, and more – I'm impressed!
The Disadvantages of the Product
Maybe you're not a fan of the barrels offered, and that's okay. For those that do like these styles, these are exceptional in performance and at a great price.
Arachnid Tungsten Soft Tip Darts
Quality:

Price Range:

Lowest Price:
– a well-known brand for this type of product. There are quite a few features of this set of tip soft tip darts, including the following:
Various tungsten percentages offered
SideRider case clips for your belt
Weight of 18 grams
One year warranty against defects of the product
Ultra-dense tungsten alloy for thinner darts + higher scoring
If you want something that's thinner and sleeker in appearance to amplify your game score, then you'll want to check out these soft tip darts that come in both 80% and 90% tungsten. With a weight of 18 grams and a structure composed of ultra-dense tungsten alloy for the thinner darts, you'll be able to score that much higher with these.
The Advantages of the Product
Being able to choose between 80% and 90% tungsten allows you to cater to your playstyle that much easier instead of having to search around for a product that isn't only XX % like others we've tried. I also love the inclusion of a SideRider case clip for the belt. You no longer have to worry about annoyingly trying to scrounge for your darts!
The Disadvantages of the Product
If you're someone who prefers 95% tungsten, you'll have to find something else – although there are plenty that cater to those within that percentage. Maybe you're looking for a thicker dart – if this is the case, you won't like these, as they are pretty narrow.
Phil Taylor Power 9Five Generation 2 Soft Tip Darts
Quality:

Price Range:

Lowest Price:
Finally, bringing the list to a close is another
brought to you by Target darts, and once again we see Phil Taylor's name on them so we can assume things are going to get pretty serious here at the end. Let's take a look.
90% tungsten.
Quattro grip made with titanium nitrate.
Best soft tip darts on the market
18 grams.
Much like the previous entry above, these Target Darts 9Five Generation 2 include many of the same features and stylistic decisions as its steel tipped counterpart. The only real difference is the type of tip. This features a soft tip, which is designed for use on electronic dart boards.
The Advantages of the Product
The primary advantage this set of darts has over the competition is that the tips are soft, which means two things. The first is that they are designed for use on electronic dart boards, so don't try to use them with cork, because you are likely to break the tips. But, if you do, no worries because the tips are extremely easy to replace! Other than that it features the same high-quality design and durability of the steel tipped addition.
The Disadvantages of the Product
Again, much like its predecessor on this list the Target Darts 9Five Generation 2 Soft Tip only has one drawback, the price. However, if you want the best dart set, you are going to have to pay for it.
Best Darts Brands
Viper is one of many quality soft-tipped darts and electronic dart board brand options brought to you by Great Lakes Darts (GLD) Products. Designed for safe at home use, Viper takes playing darts into the digital age with their soft tipped darts and electronic dart boards. Allow players of all ages to participate in this fun game while letting the electronic board do all the hard work of keeping score. And with 300 pre-programmed scoring options you can easily play a wide range of games without any of the hassles of human error. Viper brings new life into an age-old game.
For the last forty years, Target Darts has been at the center of the dart community, sponsoring world events and endorsed by some of the best players around the globe. And once you try them for yourself it is easy to see why, due to the high quality of Target Darts products. With their innovative design Target Darts products are engineered with an accuracy and precision that is only matched by the company's understanding of the game. Target Darts has created a name for themselves through their innovative styles, which impress players with the quality of the brand's products.
Boasting that they are The Force Behind Darts, Winmau is a company that aims to win. Officially endorsed by the British Darts Organization (BDO) Winmau is the only tournament dartboard brand you will find at regulation events in the U.K. today. Established fifty years ago this brand is one of the world leaders in the game, due to their diligent attention to details. Using only the best in raw materials Winmau stakes their reputation on the reliability of their products.
Buying Guide
Darts Set Buying Guide
Factors to consider before buying darts
It's easy to assume that all you have to do is to go to the store or online and pick the first set of darts you see. Buying darts isn't a science, right? Of course, it's not nuclear physics or anything like that, but you do have to take some factors into consideration prior making your purchase. Otherwise, you'd end up overpaying for darts and not getting the best value for your money. This game can be an amazing way to have fun and relax, but you need proper darts to do so. Below, you'll see different factors to consider when buying them.
Types of darts
The general categorization divides all darts into two main types: steel-tip and soft-tip. But to go in more detail, you have the option to choose from wooden, brass, nickel/silver, and tungsten darts. Professional darts players prefer tungsten darts because they resist wear and tear better than other types. Also, tungsten darts allow barrels to be slimmer for tighter groupings while maintaining the weight of the dart and minimizing bounce-outs.
If you opt for tungsten darts, then make sure you check the percentage of tungsten in them. Ideally, the higher the percentage, the better but more expensive at the same time. Compared to these, brass and nickel/silver darts are made of less expensive and softer metals. Although they tend to suffer from wear and tear faster than tungsten counterparts, they still pose as a practical choice for buyers on the budget.
Darts weight
Just like they come in different types, darts also have different weight. Generally, the weight of the best darts varies from 12g to 50g. That said, you won't see so often that someone throws a dart heavier than 30g. It's usually recommended to use darts that weigh between 18g and 20g.
Darts are weighted according to the level of tungsten they contain. It's easy to conclude that the more tungsten, the heavier and more expensive they are. At this point, you're probably wondering how to choose the ideal weight? Don't worry; it's not complicated! The ideal dart weight for a player is determined based on the speed you throw the dart. For instance, the heavier the dart, the faster, and harder you have to throw it for the best result. On the other hand, lighter darts don't require too much speed or effort.
Don't forget that the best darts are weighted at different ends e.g. towards the rear or front and along the shaft of the dart. The type of weighting corresponds to the kind of throw you have. Evenly-weighted darts are suitable for people with straight and flat throw while front-loaded darts are ideal for those who lob the dart towards the board.
Dart barrel grip
One of the most important aspects of dart is its barrel grip. Some dart barrels have smooth knurling while in others it's heavy. Generally speaking, the heavier the knurling, the easier it is for you to grip darts and throw them. But, be careful here. Darts that are excessively heavy can stick to your fingers and ruin the precision of your throw. Choose the type that feels comfortable in your hand.
For example, smooth grips can be tricky to hold. The most popular choice is moderately grooved grip; they aren't smooth, but not too heavy at the same time. The three most common forms of grip are:
Brass grips: widest, heaviest, and the least expensive but they tend to wear down faster too
Nickel/silver Grips: mid-range price, as heavy as brass grips but much thinner and more durable
Tungsten grips: the most expensive, less likely to wear out
Dart flights
Dart flights come in a variety of sizes and styles including dimpled and smooth surfaces. Your choice of dart flights has a major influence on your game. For instance, dimpled surfaces stabilize and slow down your darts. The most popular flight sizes are standard and slim.
Dart Shafts
The shaft is the part of the dart which connects the tip to the wings (feathers). You may also know it as a stem or a cane. They come in different styles, including:
Plastic/nylon: cheap, come in multiple colors, break easily
Solid aluminum: more durable than plastic and composite shafts, they're also available in different colors
Carbon-fiber, carbon-composite: very durable and lightweight, more expensive than previous two
Spinning: they don't improve flight of dart, but reduce torn flights and deflections. Also, these are the most expensive shafts available
Composite: highly durable and usually available with replaceable tops for convenience and economy
Choosing the best darts for your needs
Now that you know what factors to consider when you're shopping for the best darts, let's talk about different tips you should know to choose the right set of darts.
Board
When out to buy a new set of darts, you should also take into account the dart board you have. For example, steel-tip darts are ideal for bristle dart boards while soft-tip darts are suitable for electronic dart boards. GetGamesGo has a list of the best boards available here.
Budget
Everybody's got a certain budget and there's nothing wrong about that. In fact, setting out a price range you're willing to go for helps you rule out other darts and focus on finding the highest-quality darts within your budget.
How do you hold darts?
If darts feel uncomfortable in your hand, then move on to the next set. It's very important to opt for the dart that doesn't stick to your fingers and allows you to throw it easily, without uncomfortable feeling.
Frequency of playing darts/purpose
Your darts playing habits play a major role here. If you play darts regularly or want them for your bar, workplace etc. then investing in a durable set of darts is a good way to go. You don't want to replace them too frequently, right? But, if you play darts from time to time, then you have the freedom to opt for the less expensive set.
If you're still reading at this point, now you know a lot more about darts than you did before! Take a look at our pick for the best darts
.
Looking for a cabinet or dartboard too? We have comprehensive reviews of these here.