Last updated on November 19, 2021
Many traditional dart players would scoff at the electronic version of their beloved game and wouldn't be caught dead playing on an electronic dartboard. Still, even they cannot deny the interest and versatility this board brings to the game.
Electronic dartboards use soft-tipped darts rather than steel that register a score when thrown and hitting the board and are great for beginners to kick off their interest in darts and all the different games available and hone their throwing technique.
The electronic dartboard takes the tasks of scoring, playing, multiple games, and just good old-fashioned dart fun to the next level. Based on the original design but using electronics and soft-tipped darts, the electronic board offers darts players a whole new experience.
Viper by GLD Products 777 Electronic Dartboard...
Arachnid Cricket Pro Tournament-quality Electronic...
Gran Board 3s LED Dartboard (Blue) with Special...
How Does An Electronic Dartboard Work?
Unlike standard dartboards made from bristle and cork, electronic dartboards are made from plastic or nylon and have thousands of tiny tapered holes in them so that the tip of the darts used can penetrate the board and create a signal.
The computer then recognizes that signal, and the associated score or number is then assigned to the throw. This process allows for faster scoring, and even though the darts are soft-tipped, they still have the feel of normal steel-tipped darts.
But how do the electronic boards stack up against their more traditional counterparts?
Bristle Boards vs Electronic Dartboards
Let's examine some of the key comparisons between the traditional bristle dartboards and the electronic ones, as well as some other factors that make electronic dartboards an attractive option.
Are Bristle Boards And Electronic Dartboard Setup The Same?
You may indeed be surprised to discover that the two are not set up the same way. The standard board is mounted 5'8″ from the floor to the center of the board with the throwing line at 7′ 9 ¾" away, and the electronic board is 8′ away.
The distance from the bullseye taken diagonally to the throw line is 9′ 9 ½" for the electronic board and slightly less at 9′ 7 3/8 "for the bristle board. This distance is the hypotenuse on the triangle formed between the height of the board and the distance to the throw line.
Are Electronic And Bristle Dartboards The Same Size?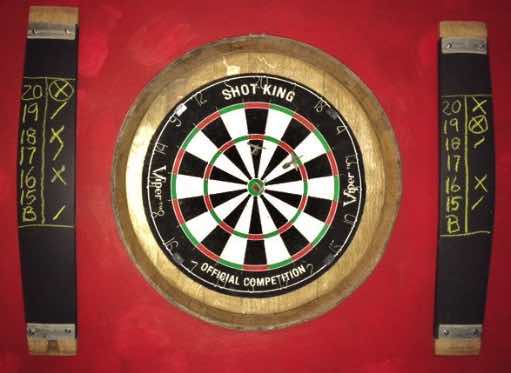 The standard bristle dartboard is 18″ in diameter with a 15.5″ playing area, while electronic boards can be smaller in diameter ranging from around 13,5″ – 15,5″. Remember that if you want to compete, you will need to have a 15,5″ playing area on your board to be used to the size. Changing your throwing form to accommodate different target sizes would not be recommended to improve your darts skills.
If you are used to the bristle board, the transition to electronic is far easier than the other way around. As long as you have the right playing area size, an electronic dartboard is sufficient.
Bristle Dartboards Don't Need Power To Play
One of the drawbacks of an electronic dartboard is that it is electronic and so requires a power source to use it. This can be from an AC supply or batteries, but herein lies a problem.
Imagine being in the middle of a tight game and the batteries start to go flat or a power outage. That would be properly frustrating! The onus on the board owner to ensure that the power supply or batteries are in good order is an additional consideration when looking at an electronic dartboard.
Bristle Dartboard VS Electronic Dartboard For Durability
Bristle boards are made from a very durable material called sisal, which lends itself to the longevity and consistent performance of the dartboard. Sisal can reshape itself after the steel dart has been removed.
Electronic dartboards are usually made from plastic. While some people find that they tend to malfunction, good-quality electronic boards don't have those problems. Logic would dictate that the bristle board would come out better if the board ever fell, but the idea is not to have your boards fall either way.
In this case, the bristle board would trump the electronic dartboard for durability as they hardly ever require maintenance, and many owners rotate the numbers around the board to prevent excess wear and tear in the very heavily used areas.
The Electronic Darts Scoreboard Is Easier To Use
In 1975, an American named Rudy Allison designed an electronic scoreboard to reduce the degree of interruption he experienced while playing darts in Ireland.
A big part of the convenience of electronic dartboards is the electronic scoreboard that would usually come with them. You will know what a mess can become if you have played regular darts with the green chalkboard for scoring.
The electronic boards score for you, which makes life a lot easier when you have a group of people playing, or the board is set up in a bar or tavern. This also avoids arguments over who has scored what when the time comes to tally up.
The scoreboard is linked to the board, and it will automatically allocate the score to the player at the throw line and then move to the next player as the game progresses.
Electronic boards are accurate, so you don't have to stress if your addition skills aren't top-shelf, and many people shy away from scoring because they don't want to be responsible for any errors.
The Electronic Dartboard Is Safer For Rebounds
Rebounds, or 'bounce-outs as they are also known, are an age-old fact of life when it comes to bristling board darts. The steel-tipped darts can sometimes bounce out of the board and end up damaging floors, walls, and even people.
Initially, bounce-outs were a big issue with the electronic boards, but the newer designs of the holes have mostly eliminated these. However, they will still occur occasionally, which is just a part of the game, albeit an irritating one.
Also, the soft-tipped darts used for electronic boards are safer as well, so one flying back at you is unlikely to cause any injury.
The Electronic Dartboard Is Easier For Group Games
With a bristle dartboard, you need to have a bit of space if you have a group of people playing darts. Usually, these boards are set up in garages, pubs, or home entertainment areas – but you still need space.
Another aspect to consider is that playing darts by yourself isn't fun, and with a bristle board, you don't have any other option if there is no one around who wants to play.
The electronic dartboard offers some innovative technology to ensure that you can enjoy a competitve game and keep those skills sharp even on your own. The built-in computer will allow you to play against it if need be.
Not only that, but the newer boards come with Bluetooth and internet connectivity so you can score from an app on your phone, load different games, and even play against people around the world in real-time!
Using the internet to connect with and play against players all over the world is a stunning development. While the traditional view may look upon this with some level of scorn, connecting with others who love the game without leaving your home is an undeniable bonus that can only help grow the game!
You definitely cannot do that on a bristle board!
The Electronic Dartboard Offers Amazing Game Variety
One area where the traditional board cannot compete is with the variety of games preloaded with some electronic boards. Most come with games like 301, 501, 701, and cricket, but some boards can have as many as 40 or more different games available!
The Viper Electronic Board by GLD has 57 game options for up to 16 players, and for less than $90, is great value for entertainment. Another point here is that the electronic dartboard can attract people that normally wouldn't play the game.
It's a bit of the 'oooh, shiny' syndrome, but the lights on the scoreboard and even the sounds can draw people's attention in and perhaps get them interested in playing where a conventional board wouldn't have the same attraction.
The LED screens make a colorful display, and it is also easy for spectators to follow the game as it progresses without having to squint at the green chalkboard or decipher the numbers if the scorer doesn't have neat writing.
You Can Track Your Progress With Electronic Dart Boards
Another thing you can't do with a bristle board is connect your board to your phone and record scores and throws in every round, and with some of the more advanced systems, they can record locations and even the position on the board where your throw landed.
Having this data available would certainly give you greater insight into your accuracy and consistency of technique, allowing you the opportunity to refine your throw mechanics and become more accurate and consistent.
Playing on an electronic board offers you variety and a chance to hone your skills with the different games requiring different throwing elements and targets, which would allow you to develop other skills in the game.
Using USB connections, your board can download info to a computer and store data from the games there as well! Over time as you play more often, you would track your improvement and keep records of games played and results.
The Top 3 Electronic Dartboards
Now that we have considered all the pros and cons of both types of boards, let's now look at some of the boards you can buy and use in your home entertainment area or bar, so you get some idea regarding the available products and options.
There are three options for the best value, best budget choice, and best premium product, so you have a range to consider.
1. Viper 777: The Best Budget Electronic Dartboard
The Viper 777 features 43 different games with a staggering 320 different options! For the social player or home bar, this is an ideal dartboard to have set up there.
The ultra-thin spider features allow for fewer bounce-outs and better shots on the board, while the brightly lit and fairly large LCD screen to keep track of scores is easy to read and efficient.
One of the impressive features of this board is the massive catch ring that comes included, and when people miss, they won't hit your walls, and the darts are easy to recover for the next round.
Sale
Viper by GLD Products 777 Electronic Dartboard...
Top Quality Segments - Regulation-sized 15.5" electronic dart board target area is incredibly durable with precision engineered concave segment holes that lock in your shots
Easy-to-Use Display - Simple display makes setup quick and the automatic scoring tracks all of your throws for you
43 Games for up to 8 Players - Includes popular games like 01, Cricket, and more unique variants; with over 320 scoring options and up to 8 player multiplayer
Bilingual Voice Option - The Viper 777 can switch between English and Spanish language options
Included Accessories - Comes with six starter soft tip darts throw line, and a throw line measuring tape
2. Arachnid Cricket Pro 650: The Best Value Electronic Dartboard
With its impressive screen, the Arachnid Cricket Pro 650 has a full size 15.5″ playing area, and the NylonTough segments have superb durability as well. Made from high-quality materials and super-responsive sensors, this board offers 24 games with 132 variations.
It can accommodate up to four teams with eight players per team, and it will even call name of the next player to throw, and it includes a handicap feature to even the game out if you are playing against higher or lower-skilled players.
With an excellent LCD scoring display, storage space for darts, and a catch ring, this board brings the best features into an affordable electronic dartboard that will provide hours of entertainment at a great price.
Sale
Arachnid Cricket Pro Tournament-quality Electronic...
Tournament-Quality Electronic Dartboard- regulation 15.5" target area
8 Players, 33 Games, 303 Options
NylonTough segments improve durability and playability
Micro-Thin segment dividers dramatically reduce bounce-outs
Computer verbally voice prompt for players to throw
3. Gran Board 3s: The Best Premium Electronic Dartboard
If you want everything that opens and shuts on an electronic dartboard, then the Granboard 3s is the one for you.
This is a heavy-duty board for professionals and amateurs alike. It features excellent connectivity to both IOS and Android. The Gran 3s makes it easy to connect and play against thousands of players online using the downloadable app.
It can save eight-player profiles through the app and has 2 X AA batteries or can be USB powered as well. The Gran 3s has nine levels of computer play and can play all the '01' games, and quite a few others included.
Using the app tracks all your playing data, and this board will help you improve your game and give you and your friends many hours of dart fun!
Gran Board 3s LED Dartboard (Blue) with Special...
2020, version UP model 3s. Use your own iPhone, iTablet, Android, or Smart TV for graphics and scoring: New games will be added with free app upgrades
Easy installation. Original dedicated bracket (normally sold separately) AND ChoukouTip50Pics
Compatibility: Bluetooth: MUST have Bluetooth 4.0 to connect with GRAN BOARD. iOS
Compatible iOS: Later than iOS7 iPhone: iPhone4s or Later, iPad: iPad3 or Later, and iPod Touch:
Compatible Android OS: Ver4.3 or Later Google: Nexus5, Nexus7 *Only 2013 Version Nexus Series or Later ASUS: MeMo Pad7 ME170C, MeMO Pad7 ME176C.
Conclusion
Viper by GLD Products 777 Electronic Dartboard...
Arachnid Cricket Pro Tournament-quality Electronic...
Gran Board 3s LED Dartboard (Blue) with Special...
If you are considering taking darts up competitively, then playing on the same boards with the same measurements and distances would be a better option for you as it will give you a real 'fee'' for the reality of the game.
As a social sport and purely for fun, the electronic dartboard provides greater variety and spectacle and simplified scoring and safety, especially if some adult beverages are flowing at the time, which, when it comes to darts, there usually are!