This post may contain affiliate links — Please read our affiliate disclosure.
Last updated on November 4, 2021
Drinking games are a lot of fun when it comes to special events at your local bar or to add some excitement to a get-together with friends. The possibilities of games to play while enjoying an adult beverage or two have definitely evolved over the years, and nothing goes better with a cold brew at a bar than a game of darts… So why not combine the two? 
Here are some fantastic dart drinking games to play with friends:
Beer Darts, Fairly Odd Novelties Dart Drinking Game, and Drinking Darts are well-known drinking dart games. However, custom dart drinking games with darts and a dart board can easily be played at home or your local pub.
Playing darts is always entertaining. However, introducing alcohol creates a fantastic atmosphere that may keep you and your friends entertained for hours. These darts drinking games are unique, fun, and exciting and will ensure that you and your friends have a blast! With that said, here is how they work.
Dart Drinking Board Games
"To me, 'Drink responsibly' means don't spill it."
Almost every adult has experienced a drinking game, whether it was a made-up-on-the-spot "drinkathon" game, a playable drinking board game, a drinking app game, or many others.  
However, you do not have to drink alcohol to play these games to enjoy them! You may come up with other ways to play should you choose not to include alcohol.  
However, these drinking dart board games have something similar in common; getting your friends to drink and perhaps bring out some of that Dutch courage!  
Fairly Odd Novelties Dart Board Drinking Game
This first contestant is the Fairly Odd Novelties Dart Board Drinking Game; try saying that after a couple of drinks! In any case, this funky drinking dart board game has 17 targets on its board meant to challenge you and your mates on your "beerabilities"!
However, they don't use accurate pin-pointed darts; instead, they use four petite balls wrapped in hook and loop and are flung towards the felt surface of the dart board, where it would stick to the surface. It's a safer dart drinking game because there will be no holes in your walls from regular darts after a couple of drinks.
The Board Has Three Layers Of Targets
An outer layer. On the outer layer borders, the dart board, which is the largest of the targets, has everything from "drink once" to "drink four times," and if you're playing it correctly, it is not just a tiny sip!
An inner layer. The middle inner border of the board has a mix between "take a shot," "lose a turn," "extra turn," and "chug a beer."  
A bull's eye. In the center circle, the "bulls' eye" is a make-a-rule target. However, this is a big target and would seem that it could be hit pretty easily at the start of the game, so I would recommend executing a rule that makes the players take a shot every time they land on a rule; that way, it becomes a more difficult target over time.  
The game set comes with four balls; however, this does not limit the number of players. You can have anywhere from two-to-six players, and even more! Each player has four balls to throw, making rules up as they go, and chugging down some ice-cold beers!
Drinking Darts – Drinking Dart Board Game
Fairly Odd Novelties Fun Shots Drinking Party Game bring the game night to another level and keep the drinks flowing. This drinking game will surely do the trick, whether you're looking for a calm evening with friends or something to spark a wild party. 
Shot glass games are ideal for bachelor and bachelorette parties, casino nights, college dormitories, adult party gifts, and various other occasions. With this entertaining magnetic dart drinking game, you can show off your social drinking skills. 
This game is pretty exciting and certainly will spice the night up with fun! If you don't aim carefully, the next shot will be yours to drink! This game includes:
The dart board target. 
The game instructions.
A metal stand for holding shot glasses.
Four magnetic darts.
Four shot glasses. 
Drinking darts come with six rings of targets to hit so that when the magnetic dart lands on one, an action would have to follow. 
Ranging from the Outer Circle:
In the first outer border, you will have full shots and half shots; if you land on that, you will know what to do! 
If you land on the second ring that labels "shoot," you will have to go again.
The third inner ring makes you drink with a buddy of your choice, and I'm sure you already have that one friend in mind!
The fourth inner circle is a "pass" action, and if you land on it, the next person will need to play.
The fifth inner circle is "assign a shot," where you can choose the shot of your choice and direct it to one of the players to take; indeed, they may try and get you back for that!
Lastly, the sixth circle is the bull's eye… hitting that makes everyone drink!
Drinking darts has a stand connected to the dart board that holds the shot glasses that you will fill with the spirit of your choice and take or assign shots when you collect the darts. It is an entertaining game full of quirky competition leaving everyone more relaxed and vibing with laughter at the end.
Custom Made Dart Drinking Games
"I used to think drinking alcohol was bad for me… so I gave up thinking."
Drinking games, let's face it, have been the lifeblood of every great party since the beginning of time, and they will never go out of style.
A game that is played over and over again, on the other hand, destroys the atmosphere. As a result, having an ace under one's sleeve to liven things up is always a brilliant idea. 
Custom dart drinking games have been made up in many exciting ways. With that said, here are some famous dart drinking games that require either just darts or darts and a dart board.
Beer Darts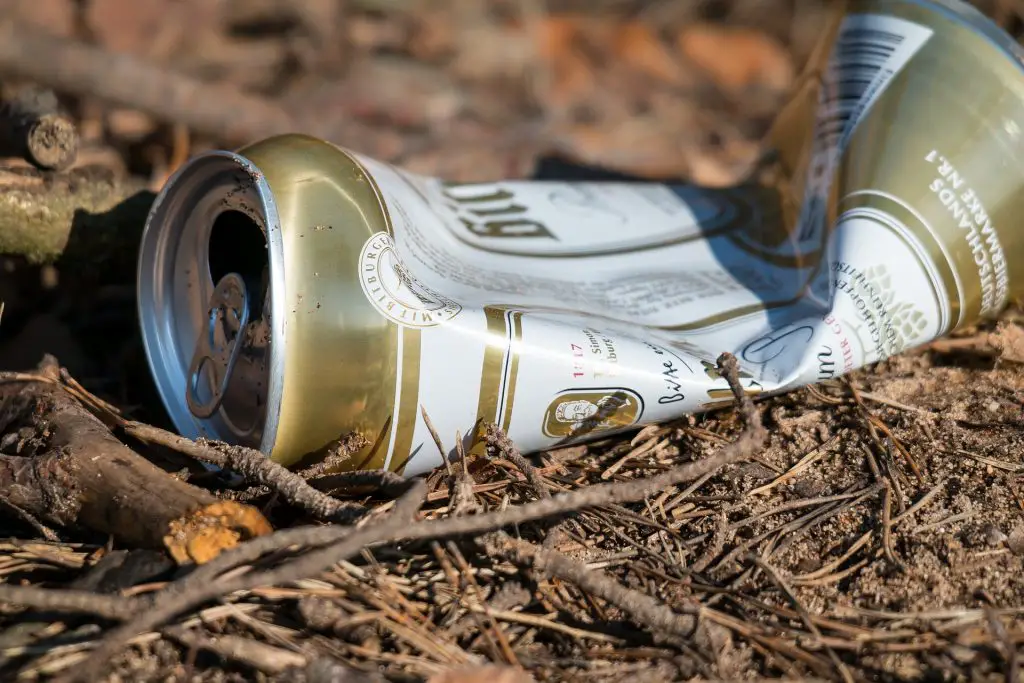 Next is a dart drinking game that is ideal for outdoor gatherings and is unquestionably a classic. It entails a few easy rules to follow, a popular alcoholic beverage throughout the world, and a healthy dose of bravery. Keep an eye out for Beer Darts! 
Beer Darts have been an American favorite and are sure to make you and the boys crack open a few beers! 
Playing This Game Requires The Following Items
Maximum Number Of Players For This Game
The number of persons that can participate in this game is unrestricted. It can be played with just two people and still be a lot of fun.
What Are The Fundamental Guidelines?
All of the participants should create a circle with at least six graceful feet between them. When just two players are present, they stand one across from the other.
A closed beer can is placed in front of each player's foot so that the other players may see it.
The game's main objective is to use a dart to strike and puncture the opponent's beer can.
When a thrower strikes and punctures an opponent's beer can, that individual must consume the entire beverage.
The thrower must drink a sip of beer every time he strikes the can but does not puncture it.
When a player catches a dart as it is flying, the game is over. He must, however, remain uninjured for the game to continue. Playing this game with sharp steel darts may be deadly, so be careful what you do. Never shoot straight at another player, and always place the beer cans on the ground. To make this game safer, substitute cans of beer for cans of seltzer or soda! 
Shot Darts
Beer Darts is a great game, but if you have a large group, you'll need a lot of beer to make everyone well-oiled. Fortunately, this second game solves the problem, and Shot Darts is the name of the game. In general, there are two methods to play this game.
One idea is to put different shot glasses under the dart board and give a number to each one. When a person reaches that number, they take the corresponding shot. The alternative is a little more complicated, so I'll go through it step by step.
What You Will Need To Play This Game
Darts on a dart board
A total of six darts
Glasses for shots
Whiskey or another alcoholic spirit of your choosing
Maximum Number Of Players For This Game
Shot darts require a minimum of four players, but more may be added if you wish.
How Do You Go About Playing It?
To begin, you must divide into two teams, each with at least two players. After that, one team member from each team shoots a dart towards the target. The team closest to the bullseye goes first, while the opponent takes the initial shots.
The first team throws three darts, attempting to land on the numbers 15-20 or a bullseye. They will take shots if they fail to do so. If they hit the number in the target area, on the other hand, the opposing team drinks shots, and the numbers close out.
In The End, What Happens?
When all of the numbers from 15-20 and the bullseye are closed out, the game is over. Let's say that closing out all the numbers isn't always easy. Also, tequila is not a good choice for this game.
Finally, you may make up your variations of the games described above or create an entirely new game. It's okay as long as everyone is amused and tipsy!
Where Can You Play These Dart Drinking Games?
"Alcohol, because no great story has ever started with a salad."
The beauty of all board games is that they are compact and portable. Aside from playing it at home, a quick and straightforward approach would be to pack it in a bag and bring it along on vacation, such as a camping trip, for those days when you want to spice up the occasion.
Another option is to put it in a bag and bring it with you when you uber to a friend's house party (remember, always have a ride if you're going to be playing drinking games!). In terms of custom dart games that require a dart board and darts, you are pretty much set if you have one already, and it is possible to go to a pub and play custom drinking dart games there if you don't!
If you're lucky, you'll even find other locals joining in, making it more fun and allowing you to make new friends!
What Not To Do When Playing Dart Drinking Games
"When I drink alcohol, everyone says I'm an alcoholic. But when I drink Fanta, no one says I'm fantastic."
Drinking games are great and fun initially but can quickly go south if you do not remain responsible throughout. It would help if you do not encourage a rush to consume as much alcohol as possible during short periods. All of these games can be played at a relaxed pace, so try to put your competitive side aside if you can. 
During a drinking game, consuming too much alcohol too rapidly might result in alcohol poisoning. When the body is overrun by alcohol, this life-threatening situation occurs. If you recognize the signs and symptoms of alcohol poisoning, such as disorientation, vomiting, or seizures, seek medical help immediately.
When playing with sharp-tipped solid darts, always look out for the safety of others, always keep your eyes towards the target you're aiming and never aim for another person. Be responsible enough to put the darts down if you've had too much to drink.
Conclusion
As you may be aware, playing a decent game of darts necessitates a high level of concentration. As a result, adding alcohol to the mix makes things much more complicated, fun, and unpredictable! However, turning darts into a drinking game will lead to increased alcohol consumption and things start to become a little hazy from there! There is an increased possibility of making mistakes, so drinking responsibly comes without question, and drinking and driving are never encouraged.