This post may contain affiliate links — Please read our affiliate disclosure.
Last updated on November 29, 2021
There is nothing quite like a Friday night spent with a great group of friends, a flagon of mead, and a fantasy role-playing board game. For a long time, Dungeons and Dragons dominated the orc slaying scene, but since 2017 a new game has dominated the genera, Gloomhaven. Inundated with awards and voted as the best in its class, are there any other games quite like Gloomhaven?
Gloomhaven is pretty unique in its card-based tactical play style and legacy storyline. There are, however, some similar fantasy-based board games, including Descent: Journeys in the Dark, Legends of Andor, A Game of Thrones, Mice and Mystics, Mage Knight, Kingdom Death, and Mansions of Madness.
Since its inauguration into the board gaming world, Gloomhaven has amassed a large following. Many agree that this board game reaches the peak of storytelling, gameplay, and enjoyability. However, can it be so far removed from the competition? What are some of the similarities and differences between kindred-styled board games?
Legends of Andor Board Game | Cooperative Strategy...
A Game of Thrones Boardgame Second Edition
Descent: Journeys in the Dark 2nd Edition
Mice & Mystics Board Game | Cooperative Adventure...
Gloomhaven And Fantasy Role-Playing Board Games
Some of the most popular board game genres are fantasy-themed games. Building a party of characters with unique skills to move through various dungeons, killing mobs and bosses for loot in a world that persistently changes as you pay, sounds like a fantastic use of time!
Gloomhaven is unique in that it incorporates a range of mechanics and gameplay features into its play style. Some of these include:
Deck-building and deck management. Many tabletop RPGs use dice of sorts, whereas                       Gloomhaven has opted for a card-based game mechanic.
Role-playing, although perfectly acceptable, is not necessary to the gaming experience.
Gloomhaven can be played as a legacy game. With the use of stickers, certain cards can be altered "irreversibly." This allows for a unique playing experience the next time the card is used.
A non-linear storyline in the form of campaigns. A typical dungeon crawler, where the decisions which are taken have knock-on effects, but with a story that adapts and grows the longer you play, with new elements that are unlocked.
No Dungeon Master required. Due to the card system, there is no need for a person to                          "world-build." Instead, the cards set the pace during the scenario.
Gloomhaven is generally played with 1 to 4 players.
As with most Role Playing Games, there are six character classes to pick from when starting the game.
These classes include a tank class (the Brute),  a utility healer (the Tinker), and the thief type character (the scoundrel).
During gameplay, your character gains experience and loot, allowing them to improve and face future enemies better.
Board Games Like Gloomhaven
Although Gloomhaven is unique in some of the ways that it tackles gameplay and storytelling, it is not so extraordinary as to be un-comparable with other tabletop RPGs.
Below is a list of board games comparable to Gloomhaven, along with their similarities and differences.
1. Gloomhaven Vs. Legends Of Andor
Legends of Andor is played with 2 to 4 players. The average game time lasts for between 60 and 90 minutes. It has a Board Game Geek rating of 7.2.
The main storyline centers around protecting the realm (kingdom) of King Brandur, which is achieved by undertaking quests spread over five scenarios.
Similarities To Gloomhaven
Both games are adventure-type games set in a fantasy world, which involves fighting enemies and exploration.
Both games have puzzle elements to them.
Both games utilize cards as part of the gameplay experience.
Both games are considered to be (or at least have elements of) role-playing.
Both games require teamwork and cooperation during combat, as well as during other quests.
Both games have a changing world, influenced by a legacy system (alterations made to cards during gameplay cannot be undone).
Differences From Gloomhaven
Although many similarities, Legends of Andor lacks Gloomhaven's complexity, making the learning curve more straightforward and gameplay, especially for young players.
Legends of Andor also lacks some of the adventure focus that Gloomhaven has, centering instead on action and puzzles.
Sale
Legends of Andor Board Game | Cooperative Strategy...
Band together; Forge the fantasy; Live the legend
2-4 Players, 60-90 minute playing time
8 page fully illustrated rulebook
Live the legendary tales as you unite to battle ever-encroaching enemy forces
High quality components
2. Gloomhaven Vs. A Game Of Thrones Board Game
Three to six players can play A Game Of Thrones Board Game. The average game length ranges between 120 and 240 minutes. The Board Game Geek rating is 7.6.
The pivotal focus of the game is in building up an army and declaring war/invading after taking control of one of the ruling Houses of Westeros, all in an attempt to take the iron throne as your own (similar, in fact, to risk).
Similarities To Gloomhaven
Both games have elements of strategic thinking about them.
Both games share a similar medieval theme.
Both games are card-centered in terms of gameplay and function.
Differences From Gloomhaven
A  significant difference is that A Game Of Thrones Board Game requires a substantial amount of negotiations, blackmail, and bluffing (it's political).
Another difference between the games is the time frame. A Game of Thrones Board Game playing session has a maximum of 10 rounds.
Some of the themes are also slightly off. Both games take place in a medieval environment, but Gloomhaven has more fantasy in it.
Sale
A Game of Thrones Boardgame Second Edition
A board game based on A Game of Thrones, a novel now adapted to an HBO series
3–6 players take command of the Great Houses of Westeros
Updated second edition, incorporates elements of past expansions
Features a streamlined rulebook and updated art
Includes welcome new enhancements like Tides of Battle cards and player screens
3. Gloomhaven Vs. Descent: Journeys In The Dark
A board game of up to five players, Descent: Journeys in the Dark (Second Edition), has a minimum of two players. A gaming session usually lasts around 120 minutes. A Board Game Geek score of 7.7 is attributed to this game.
The fundamental gameplay of Descent: Journeys in the Dark revolves around one player taking the role of the heinous Overlord, while the other players attempt to thwart his wicked plans through the completion of quests.
 Similarities To Gloomhaven
Both games have a strong fantasy theme.
Both games are centered around quests strung together to form an over-arching campaign.
Much like Gloomhaven, Descent involves exploring dungeons, ruins, and caves, encountering new and exciting creatures and characters, and most often, fighting them.
Differences From Gloomhaven
Descents' first big difference is the edition of a "dungeon master" type of player, who sets the pace and controls certain elements.
Tying in with a more traditional tabletop RPG playstyle, participants use dice when playing Descent: Journeys in the Dark.
    Dice roles determine a large variety of factors in-game, including combat and skills.
While Gloomhaven has a significant gameplay mechanic focused on utilizing cards, Descent does not.
Although Board Game Geeks nominated both games for the game of the year (in two different years), only Gloomhaven claimed the honor of the top spot.
Sale
Descent: Journeys in the Dark 2nd Edition
It is a board game in which one player takes on the role of the treacherous overlord, and up to four other players take on the roles of courageous heroes
During each game, the heroes embark on quests and venture into dangerous caves, ancient ruins, dark dungeons, and cursed forests to battle monsters, earn riches, and attempt to stop the overlord from carrying out his vile plot
Featuring double-sided modular board pieces, countless hero and skill combinations, and an immersive story-driven campaign, Descent: Journeys in the Dark Second Edition transports heroes to a vibrant fantasy realm where they must stand together against an ancient evil
Play time : 1 to 2 hours
2 to 5 Players.The revised edition of one of the most popular dungeon delving board games in the world.Pits one overlord player against up to four hero players, who cooperate to complete a range of scenario-specific objectives.Based in the fantasy realm of terrinoth, the setting of runewars, rune age, and runebound.Includes nearly 50 detailed plastic figures, 9 custom dice, 48 double sided map tiles, over 150 tokens, and nearly 250 cards.Features engaging story driven scenarios, as well as included campaign rules
4. Gloomhaven Vs. Mice And Mystics
Mice and Mystics is a board game played by one to four players.
An average gaming session lasts for between 60 and 90 minutes. Mice and Mystics received a Board Game Geek's score of 7.3.
In Mice and Mystics, players have been transformed into mice. They must work cooperatively to save their (human) king while simultaneously escaping from Vanestra, traps, creatures, and Brodie, the resident cat.
Similarities To Gloomhaven
Mice and Mystics bears similarities to Glommhaven in its adventuring, exploration, and fighting elements, within a fantasy setting.
Both board games are card-centered, where cards dictate mechanics during the fighting and exploring.
There are "premade" characters that you choose from, each with its own traits, skills, and proficiencies.
Differences From Gloomhaven
Mice and Mystics is considerably less complex than Gloomhaven, which means children from the age of seven can also play.
A significant delineating factor between Gloomhaven and Mice and Mystics is that the latter uses dice during combat, while Gloomhaven lacks dice playing.
Sale
Mice & Mystics Board Game | Cooperative Adventure...
STORYBOOK ADVENTURE GAME: In Mice & Mystics, players advance through the chapters of a storybook and take on the roles of heroes who were turned into mice by an evil Queen. These cunning field mice must race through a castle that is now twenty times larger than before to warn the King.
COOPERATIVE STRATEGY GAME: Players work together to save an imperiled kingdom and face countless adversaries including rats, cockroaches, spiders and the castle's housecat, Brodie. Each player has a vital role in the quest to warn the King, and it will take careful planning to discover the Queen's weakness and defeat her.
FUN FOR FAMILY GAME NIGHT: Mice & Mystics is the perfect game for family night or gaming events. Part fairytale and part game, this storybook will provide any group of friends with an unforgettable adventure they will talk about for years to come.
HIGHLY VARIABLE: This boldly innovative game thrusts players into an ever-changing interactive environment and features a storyline that players help create as they explore the world and advance the adventure.
NUMBER OF PLAYERS AND AVERAGE PLAYTIME: This fun storybook adventure game is made for 2 to 4 players and is suitable for ages 7 and older. Average playtime is approximately 90 minutes.
5. Gloomhaven Vs. Mage Knight Board Game
Mage Knight Board Game was released in 2011, and between one and four players should play it.
A gaming session lasts on average around 60 to 240 minutes. Board Game Geeks gives it a score of 8.1.
Once forming your party of up to four Mage Knights, players embark on quests, all the while exploring the world of Mage Knight. This board game aims to defeat and capture the civilizations found within the world of the once-great Atlantean Empire.
Similarities To Gloomhaven
An additional similarity between the two games is the focus on adventure, exploration, role-playing, fighting enemies, and strategy.
Both of these games are deck-building, card-centric board games. Where progress in the game equates to new cards to add to your deck, which are more powerful, allowing you to beat stronger enemies, finish the quest, get better cards, and repeat.
A further similarity is a feature of starting classes, of which Mage Knight Board Game has four.
Teamwork and cooperative gameplay are significant features in both of these games.
Like most typical dungeon crawler board games, Mage Knight Board Game has its share of caves, dungeons, and ruins to be explored and conquered.
Differences From Gloomhaven
In terms of complexity, Mage Knight Board Game takes the lead over Gloomhaven.
Due to Mage Knight's element of "traditional board games," it has pretty high replayability, especially when each run-through can have a different playstyle. Mage Knight can be completed in a single sitting and restarted with other goals/objectives.
Gloomhaven, on the other hand, is more story, or campaign-driven, with legacy effects altering the game for future play-throughs.
While Gloomhaven is more or less a series of connected dungeons, with some in-between "fillers," Mage Knight is a bit more connected in terms of the world and what happens during the play-through.
Sale
WizKids Mage Knight Standard Edition Board Game
For 1-4 Players
Over 2 hours to play
240 cards, 8 intricately painted miniatures, 196 tokens, 20 map tiles, 54 mana crystals and 7 mana dice
Also included are 2 game mats, 2 rule books
Combines elements of RPGs, deckbuilding and traditional board games
6. Gloomhaven Vs. Kingdom Death: Monster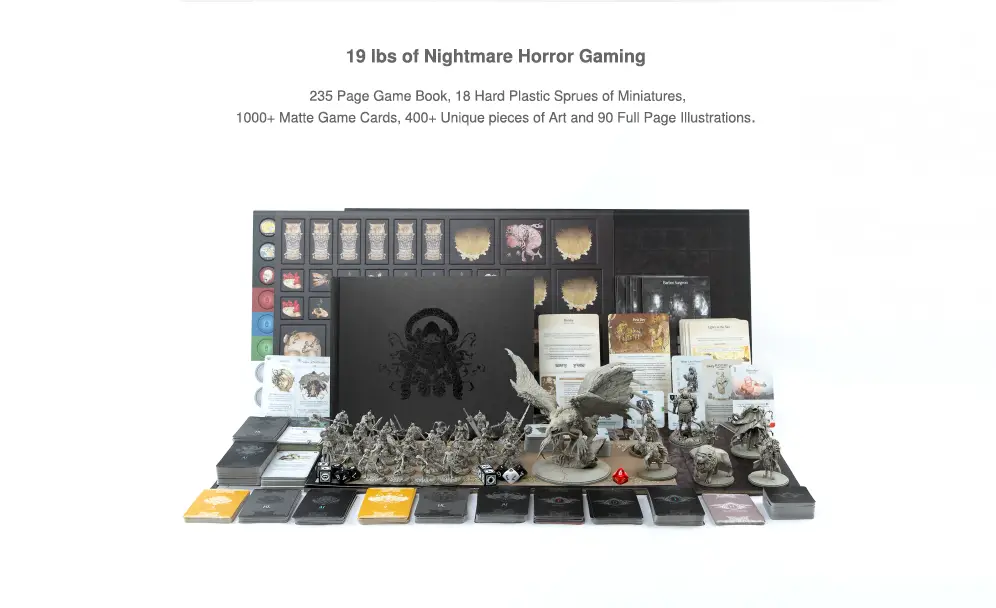 Kingdom Death: Monster is a 2015 board game that recommends between one to four players (but five people can also play under certain conditions). An average game lasts for around 60 to 180 minutes, and Board Game Geek gives it a score of 8.6.
Kingdom Death: Monster is centered around establishing your new settlement in a dark and horrifying world, starved of natural resources. If that wasn't bad enough, you still need to fight monsters, craft items and defend your home.
Similarities To Gloomhaven
Both games have a fantasy setting.
Teamwork is a critical part of Kingdom of Death, while Gloomhaven also benefits from cooperative play.
Both Gloomhaven and Kingdom Death: Monster have a legacy element to their gameplay, eliciting unique additions to the story development.
Both games are tabletop Role-playing games, where characters progress through acquiring experience, gear, and resources.
Gloomhaven and Kingdom Death are both campaign-orientated board games. Kingdom Death: Monster has a campaign length of between five to thirty "lantern years." Years consist of a hunt, a "boss" encounter, and building/upgrading your settlement.
Differences From Gloomhaven
Upon starting, Kingdom of Death provides you with a character who is a "blank slate." During the game, your character gains skills, injuries, and disorders, influencing gameplay.
Kingdom Death: Monster differs from Gloomhaven in the "darknesss" and "maturity" levels, especially in the way women are objectified.
Death in Kingdom of Death is considerably more graphic and elaborate than in Gloomhaven. Some people have even compared Kingdom Death to Dark Souls, as far as character death is concerned.
While Gloomhaven has a lengthy dungeon crawl element, Kingdom of Death features a single boss encounter during an event (called a "Hunt"). This boss, however, is incredibly challenging, so the satisfaction of defeating it should not be underestimated (Dark Souls).
In terms of gameplay features. The settlement aspect of Kingdom Death is quite different from Gloomhaven. During the settlement upgrading/building, scarce resources are strategically spent in constructing new buildings, upgrading technologies, training units, and preparing the defenses of your settlement. 
7. Gloomhaven Vs. Mansions Of Madness
Mansions of Madness (second edition, 2016) is a board game for 1 to 5 players. An average gaming session takes between 120 and 180 minutes. According to the Board Game Geek evaluation, this game receives an 8.0 rating.
Set in the Eldritch Horror and Elder Sign universe, this board game is centered around the adventures of eight investigators, delving into the mysteries of Innsmouth and the haunted mansions of Arkham.
Similarities To Gloomhaven
Both games take place in a fantasy setting and are highly story-driven.
In both games, there is a significant focus on exploration, adventure, collecting new weapons and items, fighting monsters, and solving puzzles.
Both Gloomhaven and Mansions of Madness are campaign-driven. Mansions of Madness has four scenarios to play through.
Both games support and promote cooperative gameplay.
Differences From Gloomhaven
The use of an app, which ties in with the game, is one of the significant differences between Mansions of Madness and Gloomhaven. This app allows for a more streamlined gameplay experience.
The themes of each game are quite different, with Mansions of Madness focusing on the supernatural and Gloomhaven a "Tolkien" fantasy realm.
There is less focus on strategy and tactics in Mansions of Madness than in Gloomhaven, and a large percentage of luck.
Mansions of Madness uses both cards and a dice system as part of gameplay.
Sale
Mansions of Madness 2nd Edition Board Game (BASE...
HORROR GAME: This fully cooperative board game of horror and mystery takes place in the same universe as Arkham Horror 3rd Edition, Arkham KCG, Eldritch Horror and Elder Sign. Explore the veiled and misty streets of Innsmouth and stumble through the haunted corridors of Arkham's cursed mansions as you search for answers and respite.
MYSTERY GAME: Players take the part of investigators, entering the darkened rooms of haunted Akrham mansions and other sinister locales to discover strange secrets, solve cunning puzzles and battle otherworldly dangers. Open the door and step inside - it will take more than just survival to conquer the evils terrorizing this town.
COOPERATIVE GAME WITH HIGH VARIABILITY: Game features four campaigns of varying length and difficulty.The dynamics of this game make it an excellent choice for game night with friends and family, especially if they're fans of horror!
APP-DRIVEN GAME: A free digital app is required to play your copy of Mansions of Madness. This immersive companion app guides players, step by step, through each scenario.
NUMBER OF PLAYERS AND AVERAGE PLAYTIME: This thrilling cooperative horror game for teens and adults can be played with 1 to 5 players and is suitable for ages 14 and up. Average game time is 2 to 3 hours.
The Video Game Adaption Of Gloomhaven
In recent years the popular tabletop RPG, Gloomhaven, has received a digital version.
Although not wholly "ported to PC," the video game version stays relatively faithful to the board game experience, with two different gameplay modes, up to four players online co-op play, and around 200 hours of gameplay.
The Gloomhaven video game will be available for purchase from online gaming platforms starting October 20th, 2021.
Conclusion
Legends of Andor Board Game | Cooperative Strategy...
A Game of Thrones Boardgame Second Edition
Descent: Journeys in the Dark 2nd Edition
Mice & Mystics Board Game | Cooperative Adventure...
Although there are many tabletop RPGs on the market, not all of them have a challenging yet streamlined learning curve. Neither do most of these incorporate tactical and strategic play with a card-centered gaming mechanic. Nor is there a rich storyline and a legacy element, as well as what Gloomhaven has. If board games are not your pick of the poison, then there is also the October 2021 release of the video game, a more or less faithful adaption to the original.